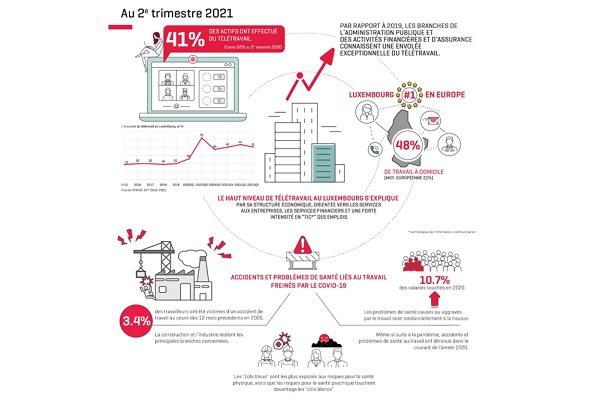 Credit: STATEC
Ahead of International Day for the Eradication of Poverty on 17 October, Luxembourg's statistics office has published its "Work and Social Cohesion Report 2021".
According to the report, income inequalities and the poverty rate have withstood the successive waves of the COVID-19 pandemic well.
Based on the latest available survey data, the average disposable income of households in Luxembourg in 2020 was €5,884 per month, which is actually 2.1% higher than the year before.
Nevertheless, significant inequalities were observed in terms of health: people living in larger households were infected relatively more often than those from smaller households; those from disadvantaged households were more likely to be hospitalised with COVID-19.
In addition, housing was a major financial worry for 31.5% of households in Luxembourg in 2020. According to the report, 5.6% of households were considered at risk of income, consumption and financial wealth poverty.
Whilst the labour market in Luxembourg experienced an annual growth rate of 2% and the unemployment rate (6.8%) has been in decline, STATEC deemed the evolution of long-term unemployment "worrying". In March 2021, more than one in two unemployed individuals were "long-term unemployed", i.e. 51% of jobseekers residing in the Grand Duchy. In comparison with March 2019, the number of long-term unemployed individuals is 36.2% higher than two years ago. The report added that education level was one of the main factors of unemployment in the Grand Duchy, as elsewhere.