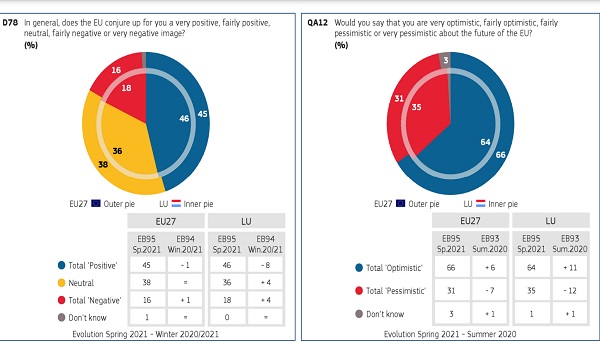 Credit: Spring 2021 – Standard Eurobarometer
According to the latest Standard Eurobarometer survey, attititudes towards the European Union (EU) remain positive and broadly stable; 64% of respondents in Luxembourg were optimistic about the future of the EU.
Optimism about the future of the EU has reached its highest level since 2009, and trust in the EU and support for the euro remain stable. The survey, conducted in June-July 2021, also indicated a significant improvement in the perception of the state of national economies.
European citizens identified the economic situation as their top concern at EU level, followed by the environment and climate change, and immigration. Health remained the main issue at national level, slightly ahead of the economic situation.
The majority of Europeans were satisfied with the measures taken by the EU and by national governments against the COVID-19 pandemic and thought that the NextGenerationEU recovery plan would be effective in responding to the economic effects of the pandemic. Nearly two-thirds trusted the EU to make the right decisions in the future to respond to the pandemic.
In Luxembourg, 64% (up 11%) of respondents in Luxembourg were optimistic about the EU's future. While 40% of Europeans considered the economic situation in their country of residence as good (up 11%), 89% of those in Luxembourg considered the situation of the Luxembourgish economy as good. Compared to the last Eurobarometer (April 2021) the number of respondents from Luxembourg expecting the national economy to get worse in the next twelve months decreased from 49% to 24%.
The three major issues at national level were housing (64%), the cost of living (31%) and the environment and climate change (25%). At EU-level, respondents in Luxembourg considered the environment and climate change (40%), immigration (27%) and the economic situation (22%) to be the most important issues.
Trust in the EU has decreased among respondents in Luxembourg by 7% compared to April 2021. However, trust in the EU's management of the coronavirus pandemic has increased by 11% (63%).
A large majority of respondents in Luxembourg said they were in favour of free movement, a common defence and security policy and a common European policy on migration, but rejected a further enlargement of the EU.

With 88%, Luxembourg leads the table of countries in which respondents see themselves as European citizens.
The "Spring 2021 – Standard Eurobarometer" (EB 95) was conducted through face-to-face and online interviews between 14 June and 12 July 2021 across the 27 EU Member States. Some questions were also asked in twelve other countries or territories Albania, Bosnia and Herzegovina, the Turkish Cypriot Community in the part of the country that is not controlled by the government of the Republic of Cyprus, Iceland, Kosovo, Montenegro, North Macedonia, Norway, Serbia, Switzerland, Turkey and the United Kingdom. A total of 26,544 interviews were conducted in the EU27 Member States.