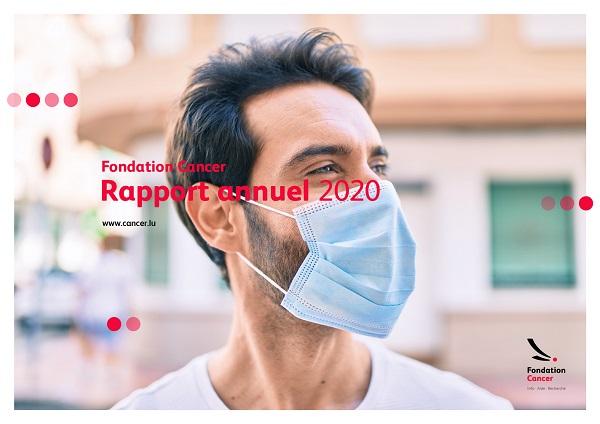 Credit: Fondation Cancer
Fondation Cancer, a Luxembourg non-profit organisation dedicated to preventing cancer, helping patients and supporting research, has presented its activity report for the year 2020.
Now more than ever, in the context of the global health crisis, the Fondation Cancer team has united behind a common goal: to support cancer patients during these extraordinarily challenging times.
Despite the health crisis, in 2020, Fondation Cancer was able to carry out its three missions simultaneously, namely helping cancer patients and their loved ones, raising awarness about prevention, and screening, and supporting research.
The adaptation of the psychological support system made it possible to provide a record 1,845 consultations, including 982 by videoconference.
To help patients in the most precarious situations to cope with the cumulative economic consequences of the health crisis and cancer, Fondation Cancer increased its financial aid to a total of €461,700 in 2020.
In addition, the non-profit funded gene tests for an amount of €99,715. These tests, which are not reimbursed by the National Health Fund (Caisse Nationale de Santé - CNS), prevent chemotherapy in patients with certain types of breast cancer.
The research sector has been impacted by the closure of laboratories. Yet cancer research is a necessity and a source of hope for patients. In total, Fondation Cancer invested €2,749,226 in research in 2020. Moreover, the non-profit made a commitment in an agreement last year with the National Research Fund (Fonds National de la Recherche - FNR) in order to support the most promising projects in the fight against cancer.
Whilst 2020 will be remembered as the year of COVID-19 for all, cancer has not gone away. The care pathways have become complicated for cancer patients, who are two to three times more vulnerable than the general population, with some of them having made the difficult decision to suspend their treatment.
In addition, screening campaigns have been delayed and it is not yet clear what impact this could have in the long term on cancers discovered later than they should have been.
The full annual report is available, in French and German, at https://www.cancer.lu/fr/notre-bilan.