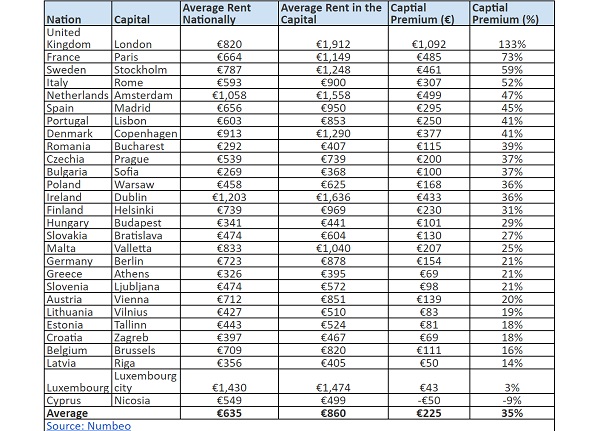 Credit: Numbeo / Spotahome
The latest research from the international rental marketplace, Spotahome, has revealed that Luxembourg City is home to some of the lower capital city rental premiums in Europe.
Spotahome looked at the cost of renting in each capital across the European Union (EU) and the United Kingdom (UK) and how it compared to the cost of renting in the wider nation. London was found to have the highest rental price premium of any capital city in Europe when compared to the national rental cost in each nation.
On average, renting in a capital city will set tenants back €860 per month, 35% more than renting across the wider nation (€635). However, in London, this capital city rental premium was as high as 133%, with tenants paying €1,912 per month compared to the broader UK cost of €820.
Paris was home to the second-highest capital city rental price premium, with tenants paying out €1,149 a month compared to the wider cost of €664 in France; a 73% difference. Stockholm had the third-highest capital rental price premium, with the average monthly rent in the city 59% higher than the current average across Sweden as a whole.
Rome (52%), Amsterdam (47%), Madrid (45%), Lisbon (41%), Copenhagen (41%), Bucharest (39%) and Prague (37%) also ranked among the highest capital city rental price premiums.
In contrast, the Cypriot capital of Nicosia was the only city to see a lower rental price than the country as a whole. At €499 per month, the city is -9% more affordable than the average cost of renting across Cyprus (€549).
Although still more expensive than the rest of the country, Luxembourg City (3%), Riga (14%), Brussels (16%) and Zagreb and Tallinn (18%) were home to some of the lowest capital city rental premiums in Europe.
UK and Ireland Country Manager of Spotahome, Nadia Butt, commented: "Opting to rent within almost any capital city is always going to come at a higher cost due to the strong demand for property and the often limited availability of homes. This is primarily driven by those moving for work as these cities are generally home to a higher level of job opportunities, as well as being some of the best places in the world to live. The good news is that while it may cost more to rent, the earnings on offer are higher, and this helps to address the balance".
For its research on capital city rental premiums, Spotahome used data on living costs from the Numbeo database.
Created in 2014, Spotahome is a PropTech startup which aims to change the property industry worldwide. With over 100,000 residential rental properties across eleven cities in Europe, its marketplace offers complete listings of rooms, apartments and student accommodation bookable exclusively online.