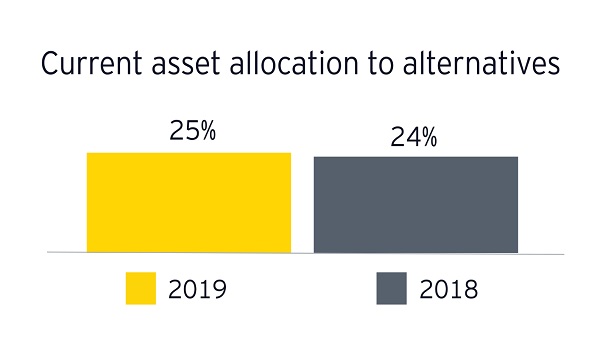 Credit: 2019 EY Global Alternative Fund Survey
EY Luxembourg today announced the publication of the 2019 EY Global Alternative Fund Survey "When focusing on the future, where do you look?".
The 13th annual survey, formerly known as the EY Global Hedge Fund Survey, found that whilst overall allocations to alternative investments have not changed, competition is intensifying between asset classes.
Indeed, the survey revealed that all alternative fund managers are examining their strategic priorities and focusing on how to develop products and prepare their business for a rapidly evolving future. This is especially the case in light of more investors increasing allocations to private equity and other alternative asset classes largely at the expense of traditional hedge fund offering.
Continuing a multiyear trend, assets under management (AUM) allocated to hedge funds decreased by 7% according to the survey, while allocations to private equity increased by 7%. The survey also identified expanded interest in private credit and real estate offerings. This shift in allocations has impacted the strategic priorities of alternative managers. Private equity managers have every reason to enact ambitious capital raising strategies and continue to identify growth as their top priority. Hedge funds are more muted on their growth agenda and are increasingly focused on talent and cost management.
While hedge funds and private equity represent the majority of allocators' alternatives portfolios (33% and 25%, respectively), the survey also saw investors report that 23% of their assets were allocated to real estate and 19% to private credit, infrastructure and other alternative asset classes.
Given the competition, 69% of hedge fund managers and 71% of private equity managers listed asset growth as a top priority. Recognising they need the right people in place to achieve this goal, talent management was a close second, with 62% of hedge fund managers and 56% of private equity managers listing this among their top three priorities. From here, priorities diverged, with hedge funds more focused on reigning in costs than their private equity peers; half of hedge fund managers ranked cost management and rationalisation high among their priorities, while just 29% of private equity managers ranked this a top priority.
Hedge fund and private equity firms continued to diversify their product offerings, despite the operations, technology, talent and investor acceptance challenges they pose. Hedge funds offering or planning to offer co-investment vehicles more than doubled from 21% to 58% in the last year. Another 37% of hedge fund managers currently offer or plan to offer illiquid credit, private credit, CLOs and senior debt in fund structures, 17% currently offer or plan to offer real assets and infrastructure and 16% currently offer or plan to offer real estate. Private equity managers are equally bullish on these product offerings, with 41% offering private credit vehicles, 23% providing real estate products and 22% offering exposure to real estate.
The survey found that managers are also continuing to focus on driving growth within their existing strategies, although the structuring considerations and customisation continue to be challenged by investors. The majority (79%) of hedge fund managers have been more successful increasing AUM in their existing offerings rather than in their new products. Despite this, more than half of managers (60%) find success in launching new products, including separately managed accounts (SMAs), for existing clients and new clients.
Entering the next decade, diversifying into products that are environmentally and socially responsible is crucial according to the survey, as 29% of investors are already investing or planning to invest in socially responsible funds, and nearly two-thirds of these investors (63%) say that managers' ESG policies have a critically important impact on their decision to invest. Whilst the number of hedge fund managers currently offering ESG products is just 19%, that number is expected to increase by approximately 50% over the next two years, according to the survey.
In addition, whilst the survey concluded that talent management has garnered meaningful focus by alternative managers and progress has been made, significant work remains to be done in terms of achieving diversity in the front office.
Finally, the survey found that alternatives managers are utilising data as a competitive advantage and while private equity firms are further behind in devising formal strategies for maximising data utility, they are catching up.
The full report is available at https://www.ey.com/en_gl/wealth-asset-management/when-focusing-on-the-future-where-do-you-look.