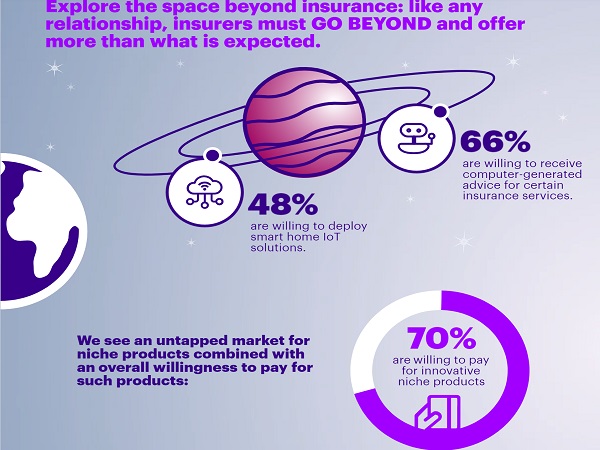 Extract from 2019 MPS; Credit: MPS by Accenture Luxembourg, Bâloise Assurances Luxembourg
Accenture and Bâloise Assurances Luxembourg have announced the launch of the first Insurance Market Pulse Survey in Luxembourg, the findings of which have revealed that the Luxembourg insurance industry is "on the precipice of change".
According to the 2019 Luxembourg Insurance Market Pulse Survey (MPS), the first of its kind in the country, the Luxembourg insurance industry is now perfectly positioned to capitalise on an energised customer base seeking greater affinity and new services.
Bâloise Assurances Luxembourg teamed up with Accenture Luxembourg to gauge the expectations and needs of the insured in Luxembourg. The MPS surveyed more than 1,000 respondents on 25 questions in six categories, ranging from "Satisfaction" to "Omni-channel Experience".
The MPS found that 92% of customers reported having very infrequent interactions with their insurance providers, which consequently increased the significance of the rare moments of engagement between insurers and customers. These brief interactions serve as "moments of truth" that can either make or break these relationships.
Romain Braas, CEO of Bâloise Assurances Luxembourg, added: "In a moment where our industry is at a new turning point, it is important to measure the market needs in Luxembourg in terms of client relations. This Market Pulse Survey reinforces our strategic choices based on proximity, simplicity and innovation to create the best customer experience".
Although insurers have already started developing new, more personalised services, the results of the MPS suggest that they must continue down this path. In other words, they need to offer the right services for the right customer at the right time. The study also showed a residual interest in innovative services ranging from pet coverage to cyber-security and e-transportation.
Emiliano Luzzi, Insurance Lead at Accenture Luxembourg, explained: "In order to keep close relations with their customers and stay ahead of competition, insurers must now, more than ever, stay at the forefront of innovation and diversification of product services in response to an everchanging and developing market".
These findings have highlighted the growing importance of an expanding services portfolio for insurers and a key opportunity for them to consolidate and develop long-term customer relationships based on a more people-centric approach to the market and beyond.
The survey can be consulted at http://view.ceros.com/accenture/mps-lu-insurance2019/p/1.