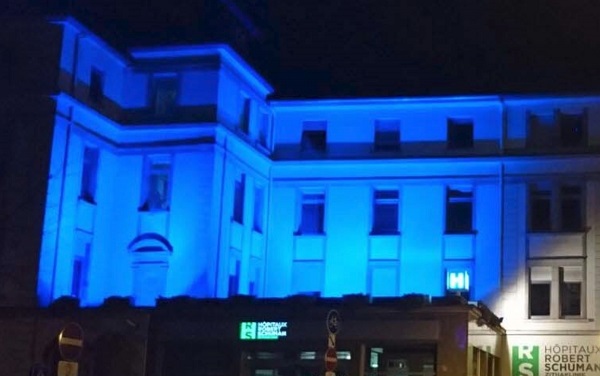 Credit: FAL
As part of World Autism Awareness Day, established by the United Nations in 2008, the Foundation Autism Luxembourg (FAL) has planned a series of conferences and other events for 2 and 3 April 2019.
In the context of World Autism Awareness Day (WAAD), Luxembourg City will host three major events, organised by the FAL, next month. Firstly, the "Light It Up Blue" action, taking place on WAAD itself, is a campaign dedicated to raising awareness of autism and was launched in 2010 by Autism Speaks, an American association. The action consists of illuminating buildings or statues in blue, from 30 March to 5 April 2019, or even longer, as a sign of solidarity.
The three associations working for the cause of autism in Luxembourg, namely Autisme Luxembourg asbl, APPAAL asbl and FAL come together every year to organise this action. Last year, nearly fifty buildings supported the cause. Other ways to show support for autism acceptance month include dressing up in blue or organising a fundraising event.
This year's WAAD will also see information stands from Autisme Luxembourg asbl, APPAAL asbl and FAL in Places d'Armes in Luxembourg City, from 10:00 to 18:00. Visitors to the stands will obtain information on autism as well as have the chance to interact with the different stakeholders. The event aims to increase understanding of autism in order to achieve the full inclusion of autistic people in society, the full respect of their rights as outlined in the United Nations Convention on the Rights of Persons with Disabilities and the removal of barriers preventing autistic people from taking part in education. The stands will feature a blue photo box where visitors can take a selfie with a blue tinge, to share on social media.
The FAL is also organising a conference entitled "Transition into adulthood: what difficulties arise?" The event will take place 3 April 2019 at the Banque de Luxembourg in Luxembourg City, from 20:00. Speaking at the conference will be Silke Lipiniski, who will discuss the particular challenges during the transition phase from adolescent to adulthood for persons with autism. Entry is free.
It is estimated that 6,000 people are on the autism spectrum in Luxembourg. Most of them experience widespread discrimination in many fields of their lives as well as social exclusion. The FAL offers children, teenagers, and adults with autism (and their families) various psycho-paedagogical services, including diagnosis and assessment, a day centre, long-stay accommodation, leisure opportunities, parental support and other training. The FAL's five residencies house 32 beneficiaries, who live and receive 24/7 assistance throughout the year by nurses, psychologists and education specialists.
To further support these actions, make a donation to the account: BIC: BCEELULL, IBAN: LU81 0019 5255 3817 4000 with "Light It Up Blue" in the communication. All donations to FAL are tax deductible.