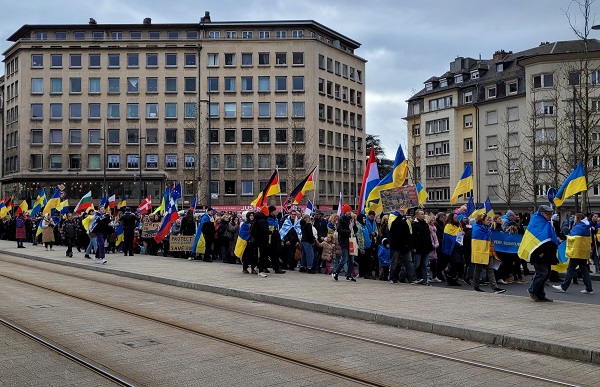 Ukraine solidarity march in Luxembourg City, 25 February 2023; Credit: Jazmin Campbell / Chronicle.lu
Chronicle.lu recently reached out to Luxembourg's Ministry of Foreign and European Affairs for comment following reports of unsatisfactory living conditions in certain refugee facilities managed in the Grand Duchy by the National Reception Office (Office National de l'Accueil - ONA).
Since Russia launched its full-scale invasion of Ukraine on 24 February 2022, Luxembourg has received over 5,000 applications for temporary protection from Ukrainians having fled the war. LUkraine asbl, a local non-profit organisation representing Luxembourg's Ukrainian community, recently estimated that about half of Ukrainian refugees in the Grand Duchy were staying with host families (although some are having to seek alternatives as time goes on) or in other private accommodation whilst the other half were living in dedicated state-run refugee facilities.
Whilst the general feeling among Ukrainian refugees is gratitude towards Luxembourg and its people for their support, LUkraine asbl Refugee Coordinator Marianna Pogosova told Chronicle.lu that the non-profit has received several complaints over the past year, particularly in relation to one state-run facility in Luxembourg-Kirchberg: "Bâtiment T". The building in question has a maximum capacity of about 1,000 beds (as confirmed by Luxembourg's Foreign Ministry); according to LUkraine asbl, about half of current residents of the building are Ukrainian nationals. Marianna Pogosova shared that many of the Ukrainians living there have reported feeling like "prisoners" due to allegedly strict and changing rules and complained of inadequate food and facilities.
Speaking to Chronicle.lu, one Ukrainian woman, who has been living in Bâtiment T with her three children since May 2022, said that the situation had deteriorated over time as the facility became more crowded, thus putting a strain on existing resources. She complained of strict rules regarding where and when refugees could eat in the building and said that she felt that the food provided was often of "cheap quality" and lacked the vitamins and minerals required by children in particular. Other refugees had reported that their children had suffered malnutrition since moving into this building. They reported a lack of facilities such as microwaves (to heat up food which is reportedly served cold sometimes) and functioning showers and toilets.
Concerning the latter, the Foreign Ministry argued that "the need for microwaves is extremely low" since meals are "offered three times a day and the dining hall has two large hot water dispensers with hot water for tea, instant soups (snacks), coffee, etc." The ministry added that microwaves are available on each floor "to allow mothers to heat their babies' milk" and another three microwaves are available in the dining hall. "These will soon be increased to six, as the number of residents has increased in recent weeks." The ministry added that ONA was unaware of any issues with the toilets, which are "cleaned several times a day."
Another couple living in the refugee centre with their newborn baby complained that the food offered was not adapted to the specific needs of children but also those of pregnant women. They lamented that they were unable to bring food up to their room to eat outside the set mealtimes. In response to food complaints, Luxembourg's Foreign Ministry argued that "all meals are prepared in a professional and balanced way and served by one of the most established international service providers in this field, in accordance with the latest scientific findings in the field of nutrition and according to the strictest quality criteria." The ministry added that specific dietary requirements could be "taken into account" and that the service provider "carries out regular food inspections". Concerning complaints of not being able to eat in one's room, the ministry stated that "as a general rule", this was not permitted for "hygienic, social and administrative reasons", although "exceptions may be allowed in special cases."
There were also complaints of unheated rooms, a lack of psychologists and social workers and poor communication between ONA and the Luxembourg Red Cross and Caritas Luxembourg, who are responsible for the day-to-day operation of the centre. Concerning the first point, the Foreign Ministry acknowledged that the heating system was "not the latest technical equipment", since the former administrative building had to be "in a very short time [...] converted into an emergency accommodation facility", although all rooms are apparently equipped with a heat pump. On the second point, the ministry said that there are currently two psychologists on site at Bâtiment T who are available to "provide psychological support on request". Regarding an alleged lack of communication, the ministry said: "Social support is provided by competent teams from the Red Cross and Caritas, which the National Reception Office fully trusts for the quality of their work. In addition, regular meetings are held between the ONA and its partners to discuss any problems and needs in the facilities, in order to adapt the offer according to the case."
For LUkraine asbl, however, the many complaints received from refugees suggest that the Luxembourg Government lacks a concrete long-term strategy, particularly regarding housing for Ukrainian refugees. Instead of being able to focus the bulk of its efforts on directly supporting people in Ukraine, the non-profit has felt the need to step up its support for refugees in Luxembourg in response. The Foreign Ministry has defended the government strategy, however, arguing that "the arrival and welcoming of refugees from Ukraine in Luxembourg were marked by the urgent need to provide them with accommodation in the shortest possible time and under the best possible conditions, as well as to guarantee them quality meals, schooling for their children and the possibility to work."