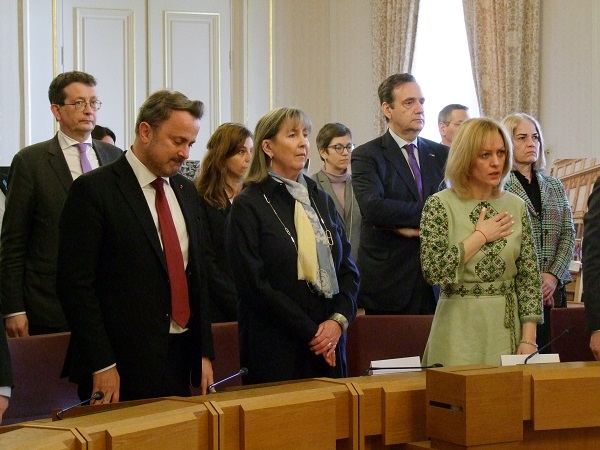 VdL exhibition opening; Credit: Chronicle.lu
On Friday 24 February 2023, two exhibitions launched in Luxembourg City to mark the one-year anniversary of Russia's full-scale military invasion of Ukraine.
VdL photo exhibition
The City of Luxembourg (Ville de Luxembourg - VdL) opened an exhibition of eighteen photographs dedicated to one year of resistance against Russia's aggression towards Ukraine.
Natalia Anoshyna, Chargée d'affaires a.i. of Ukraine to Belgium and Luxembourg, spoke in English and stated that this was the hardest day for all Ukrainians as it was one year to the day since they awoke to the attack from Russia. She said that this date is also a symbol of Ukrainian strength and bravery: since then, Ukraine and its people have become stronger. She stressed her thanks to Ukraine's President and the country's defenders, and emphasised that more weapons will help drive Russia from Ukraine. She said that she considers Luxembourg as a great friend, from the Grand Ducal family to Prime Minister Xavier Bettel and the government, the City of Luxembourg and many other organisations and people in Luxembourg.
Lydie Polfer, Mayor of Luxembourg City, spoke in French and stressed: "We stand with Ukraine". She referenced 24 February 2022 as well as 22 November 1963, the date on which then US President John F Kennedy was assassinated, both dates in which democracy was tested. She thanked everyone for their support.
Prime Minister Xavier Bettel delivered a passionate speech (in French) in which he talked about the atrocities being carried out on the territory of Europe and about liberation and Thursday's UN resolution. He became emotional when talking about the photographs in the exhibition and the images that they portrayed.
Hanna Rafikova, a Ukrainian in Luxembourg, gave a personal testimonial in which she said that her house had been destroyed in 2014 when Russia forcibly occupied the southern area of Ukraine. Then, on 24 February 2022, they lost their house again when Russia bombed their town. They stayed in bomb shelters for two weeks, but she had to look after her six sons. "My house is damaged, my city is destroyed but my heart is unbreakable," she concluded.
Czech Embassy exhibition
Also on Friday, the Czech Embassy in Luxembourg inaugurated an exhibition dedicated to Ukrainian resistance and how Czechia has supported this over the past year. The inauguration, hosted by Czech Ambassador Vladimír Bärtl, took place in the presence of Chargée d'affaires Natalia Anoshyna, Luxembourg's Honorary Consul to Ukraine, Claude Radoux, the Representative of the European Commission in Luxembourg, Anne Calteux, and representatives of LUkraine asbl, namely President Nicolas Zharov and Vice-President Inna Yaremenko.
According to Ambassador Bärtl, the aim of this exhibition is "to show particularly Czech aid [to Ukraine], which was to some extent the first one (military aid, an immediate stop to issuing visas to Russian citizens)."
Some of the key takeaways from the exhibition, according to the Czech Ambassador, are that Russia, which has brought war back to Europe, "must not win the war" and that assistance to Ukraine is "not only the morally right thing to do, but is necessary and pragmatic for our own security interest". In terms of concrete support, he noted that Czechia is among the largest suppliers of military aid to Ukraine and has released a total of almost 1 billion CZK (approximately €42 million) in aid for Ukraine. He added that Czechia, like Luxembourg, supports Ukraine's bid to become a member of both NATO and the European Union (EU), as well as the investigation of war crimes committed in Ukraine.
This public exhibition takes the form of posters, featuring photographs and text related to Czech support to Ukraine, on the gates outside the Czech Embassy in Luxembourg-Limpertsberg.