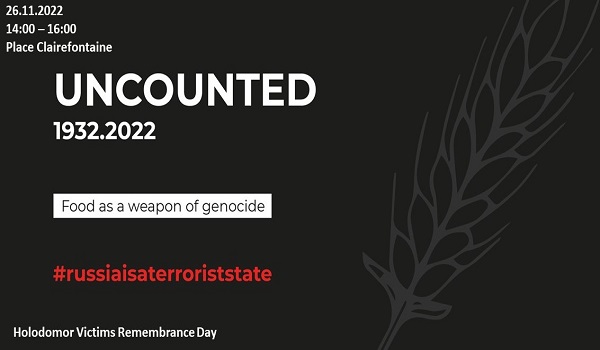 LUkraine asbl, a non-profit organisation representing Luxembourg's Ukrainian community and supporting those affected by Russia's invasion of Ukraine, is organising an event dedicated to the "Holodomor" (also known as the "Great Famine") on Saturday 26 November 2022 from 14:00 to 16:00 in Place de Clairefontaine in Luxembourg-Ville.
The event "UNCOUNTED 1932.2022" commemorates victims of the 1932-33 famine in Soviet Ukraine under Joseph Stalin. Millions of Ukrainians died of starvation in what several nations have recognised as a genocide.
26 November 2022 marks this year's Holodomor Memorial Day (held each year on the fourth Saturday of November).
LUkraine asbl is organising its own memorial event in Luxembourg, with the organisers arguing that "the genocide perpetrated by the Soviet regime continues to be perpetrated by its successor, modern Russia", referring to Russia's invasion of Ukraine which began on 24 February 2022. They added that the exact number of Holodomor victims, as well as victims of the Russian invasion, remain "uncounted".
LUkraine asbl recalled that food has once again become "a weapon with which Russia is now blackmailing the whole world, trying to block ports or trying to get out of the grain agreements".
Everyone is invited to join this commemorative event in Luxembourg City on Saturday afternoon.