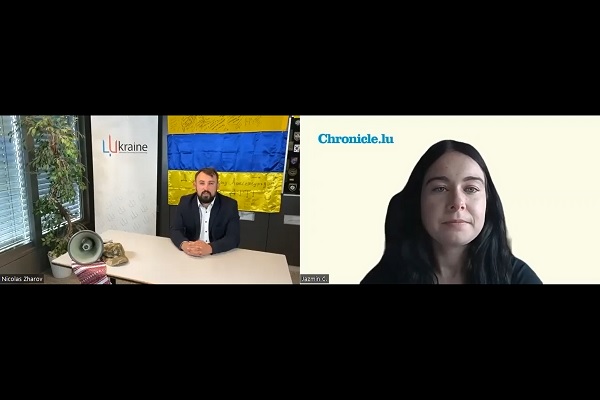 L-R: Nicolas Zharov, President of LUkraine asbl; Jazmin Campbell, journalist at Chronicle.lu; Credit: Screenshot
In a third weekly video interview on Chronicle.lu (available to watch below), Nicolas Zharov, President of LUkraine asbl, presented the non-profit organisation's project strategy and key focus areas and discussed the latest developments in the Russia-Ukraine war.
In previous interviews, Nicolas elaborated on LUkraine asbl's origins as a non-profit working to provide Ukrainians in need with humanitarian aid, initially following Russia's annexation of Crimea in 2014 and now amid the full-scale invasion of Ukraine, as well as its volunteer-based structure and its activities relating to culture and professional training.
Projects across four key areas
In this interview on Friday 29 July 2022, Nicolas first explained that the non-profit's current activity is divided into four different blocks: refugee support, emergency response, cultural diplomacy and European Union (EU) advocacy.
Refugee support
"The first two blocks are very important for the events that are happening right now in the war against Ukraine", he explained. "The first block is the refugee support block. In this block, we try to cover the basic needs of refugees and then give them opportunities".
The refugee support block is made up of six different projects, including housing projects, aimed at providing Ukrainian refugees in Luxembourg with accommodation and covering the various related bills. "Of course, we need also to cover the basic needs such as food and hygiene products, so we deliver food packages and we give some products for babies and hygiene", Nicolas continued. "The third part of those basic needs is psychological assistance, so we give this assistance to the people in need. Thus, we can cover all the basic needs of refugees".
The second part of this block is dedicated to offering opportunities to Ukrainian refugees having recently arrived in Luxembourg. "We try to give [them] a normal lifestyle […] by integrating them into Luxembourgish society, by giving the language courses (we have twelve groups and we are expanding them, for intensive French and English courses for Ukrainian refugees)", Nicolas explained. Another aspect is offering various workshops to refugees to help them understand how Luxembourg's labour market and job system works. The next workshop offered by LUkraine asbl will be dedicated to teaching Luxembourgish law to Ukrainian accountants.
"The third part of this block is about finding a job and actually employing people, so we work really hard to find different employers and propose them the [applications] of those people who come and pass our integration courses and different workshops", concluded Nicolas.
Emergency response
The LUkraine asbl President went on to present the second block of the non-profit's project strategy, namely "the emergency response to the events that are happening directly in Ukraine". He elaborated that this included providing humanitarian aid, evacuation and food packages for people living in or near the areas that have been worst affected by the war, together with the non-profit's partners in Kharkiv and other Ukrainian regions. Most of this humanitarian aid consists of medical equipment and medicines which have been delivered to hospitals in Ukraine.
Within this block, Nicolas highlighted LUkraine asbl's ongoing ambulance project; the non-profit has already sent ten ambulances to Ukraine, where "many hospitals were destroyed and people in the regions do not get assistance due to the lack of ambulances". LUkraine asbl will continue on with this project in future. In addition, the non-profit plans to offer its support to another emergency service in Ukraine: the fire brigade. Nicolas added: "We will buy the first fire [engine] in the next weeks which will be delivered to the Donetsk region" – more on this later.
Cultural diplomacy
Regarding the third block, that of cultural diplomacy, Nicolas explained that LUkraine asbl was "working hard" to allow newly arrived Ukrainians in Luxembourg, particularly children, the possibility to be integrated into Luxembourgish society, on the one hand, and to present Ukrainian culture to Luxembourgish residents, on the other. The latter is aimed at helping Luxembourgish society "understand who Ukrainians are and their culture, their way of thinking". He added: "I think this is something which is really needed here in Luxembourg, to create this integration".
Nicolas also explained that the non-profit plans to open a "Ukrainian hub" in the future, which will include a Ukrainian school, cultural centre and library, as well as various artistic workshops.
EU advocacy
The fourth and final project block is dedicated to advocating the accession of Ukraine to the EU. On 23 June 2022, EU leaders granted Ukraine candidate status in a historic move that paves the way to membership for the war-torn country.
Commenting on this and how it fits with LUkraine asbl's strategy, Nicolas stated: "We are doing our maximum to create possibilities for Ukrainians and also for Europeans to work together and to understand what are the next steps that should be taken for Ukraine to be able to join the European Union as a strong Member State".
Latest war developments
This interview was also an opportunity for Nicolas, on behalf of LUkraine asbl, to reflect on and react to the latest developments in the Russia-Ukraine war. These included reports of a Russian missile strike on a jail holding Ukrainian prisoners of war in the Donetsk region, in which at least 40 people died and about 75 more were wounded – an incident which Russia has blamed on United States-made HIMARS (High Mobility Artillery Rocket Systems).
"I have really pain in my heart from the news we have received this morning", said Nicolas, who was visibly moved by the subject. "The first of this news is that a prison where Ukrainian prisoners were held was bombed today by the Russian forces". He described the accusations that Ukraine had used HIMARS to attack the prison itself as "ridiculous". Referring to the number of victims of this attack, he described it as "a real war crime", particularly since "the Geneva Convention assures the fair treatment of prisoners".
Friday also saw the emergence of graphic footage which appears to show a Ukrainian prisoner being castrated by a Russian soldier. Nicolas commented: "The second news, of course, is the continuous torturing of Ukrainian citizens by Russian troops. Unfortunately, today we have seen a video where a Ukrainian soldier was tortured and, to be more specific, Russian troops cut [off] the testicles of this man and they killed him afterwards, and they recorded it on video. In this regard, I don't have much to say about the cruelty, the violence of Russian soldiers. It's just unbelievable that this still happens in the 21st century".
Finally, Nicolas reacted to the news of a Russian strike on a bus stop in the city of Mykolaiv, which left at least five people dead and seven injured. "Given [all] this news, I still wonder why Russia is not declared as terrorist state or at least a state who finances terrorism. We should understand that it will only worsen in the next days, because the only answer that they can give to the world community is violence and more violence. And this cannot be tolerated".
Plans for strengthened cooperation
In terms of how LUkraine asbl is reacting to such developments, for instance through cooperation with its partners in Ukraine, Nicolas explained: "First of all, as a non-profit organisation, we can only ask to provide more support to Ukraine on the different levels, taking into account the humanitarian, the military and the financial support. We do understand that every day of this war takes more and more lives, so we urge all the governments in the world to help Ukraine to stop this war, to protect our homeland".
"As for our cooperation with Ukrainian actors, we have already several organisations that we work with in Ukraine", he explained. "But yesterday, we agreed together with the Donetsk Region Administration to sign a memorandum of cooperation to be able to provide humanitarian aid to this region, where the situation is very, very difficult". The agreement, which is set to be signed in the coming weeks, will thus see LUkraine asbl concentrate its humanitarian efforts on the Donetsk region. Nicolas added: "I hope that people will join this campaign by providing medical supplies, food, water and, of course, the most needed equipment, such as ambulances and fire [engines], to this region".
As part of this agreement, the non-profit will send a first fire engine to the city of Avdiivka in the next weeks. Nicolas explained that "this city has no electricity, no gas and no water, and there are still over 2,000 people who stayed in this city, so it's up to us to provide this humanitarian assistance to the city of Avdiivka and to other cities of the Donetsk region".
This work fits with LUkraine asbl's goal of supporting not only Ukrainians in Luxembourg but also people in Ukraine. "Our main purpose and our slogan is 'We save lives'. This is our main activity so far. We concentrate our efforts on providing the emergency response to the people who are in direct danger of being killed", concluded Nicolas.
Watch the full video interview below: