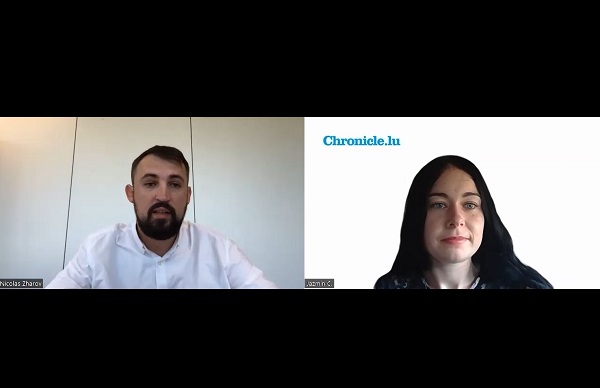 L-R: Nicolas Zharov, President of LUkraine asbl; Jazmin Campbell, journalist at Chronicle.lu; Credit: Zoom screenshot
Following the recent announcement of a new media partnership, Chronicle.lu journalist Jazmin Campbell sat down for an exclusive virtual interview (watch the full video interview below) with Nicolas Zharov, President of LUkraine asbl, on Friday 15 July 2022.
This interview, held via Zoom, is the first in a series of planned weekly interviews with LUkraine asbl on Chronicle.lu. Whilst Chronicle.lu has been following the situation closely and sharing relevant news of local support initiatives since the start of Russia's invasion of Ukraine on 24 February 2022, the goal of these interviews, and indeed the media partnership in general, is to share more regular content in relation to the humanitarian work of LUkraine asbl, a non-profit organisation representing Ukrainians in Luxembourg.
Original humanitarian purpose
As Nicolas Zharov explained, the story of LUkraine asbl dates to December 2013 with the creation of a Facebook group aimed at bringing together Luxembourg's significant Ukrainian population. Already in those early days, the community organised demonstrations in Luxembourg to draw attention to developments in Ukraine, particularly in the lead up to and following Russia's annexation of Crimea in March 2014. As the group grew, members of the community decided to create a non-profit organisation to better coordinate efforts to support Ukrainians.
Following the annexation of Crimea, the non-profit dedicated its efforts to sending humanitarian aid to Ukraine. "Since the start of the war in 2014, we said that we need to do something and we started to send humanitarian help to Ukraine, mostly life-saving equipment and [medication]", explained Nicolas during the interview. "Our main purpose was, of course, to be able to send humanitarian support and to be able to provide medical assistance".
Once the situation had eased slightly, LUkraine asbl turned its attention to more community-based projects in Luxembourg, participating in fairs, organising various events and inviting guest speakers and performers from Ukraine to the Grand Duchy. "We were trying to spread the Ukrainian culture and to present Ukraine [to] Luxembourgish citizens, to explain how actually Ukraine works and why we are different to other post-Soviet countries", stated Nicolas. Nevertheless, the non-profit's original humanitarian purpose was never far from mind. "We also concentrated our humanitarian efforts in Ukraine based on youth and children", Nicolas noted, adding that LUkraine asbl has taken part in three major projects in this field in Ukraine since 2015. One such project was helping to repair an orphanage in Mariupol; another was helping to set up a pedagogical farm for disabled people (such as autistic people and those with Down syndrome), a project supported by Luxembourg's Ministry of Foreign and European Affairs. "The financing of this project [ended] on 31 December 2021, just before [Russia's] full-scale invasion of Ukraine", stated Nicolas.
2022 Russian invasion
Since Russia launched its invasion of Ukraine earlier this year, LUkraine asbl has returned to its initial humanitarian purpose. "Since 24 February, we have concentrated our efforts on emergency relief aid to Ukraine, as it was back in 2014. Saving lives was the priority", explained Nicolas. "We started sending everything we could find: [medication] and, of course, clothes, food, pet food, medical equipment, everything that could help the internally displaced people and the refugees coming to Europe to survive". Since then, the non-profit has transported and found host families for some 1,000 Ukrainian refugees in Luxembourg. LUkraine asbl also works actively together with the Luxembourg Red Cross and Caritas on the operational level to help refugees who have arrived in Luxembourg. In March 2022, the non-profit set up a psychological assistance project together with Doctena aimed at helping Ukrainian refugees to cope with the trauma they have experienced.
Moreover, LUkraine asbl has been working to help integrate Ukrainian refugees in Luxembourgish society as quickly as possible. Concrete examples include offering French and English language courses as well as integration courses to explain how things work in Luxembourg. The non-profit also set up various distribution points to facilitate access to clothes, hygiene products and toys, among other items. "We try to do the maximum we can for the refugees", stated Nicolas. Another example of this is the distribution of food packages to those living with host families. "We understand that, unfortunately, the government is not able to provide additional help for the host families, taking into account all the other actions that the Luxembourgish government has [set up] to help Ukrainian refugees, which is simply great", the LUkraine asbl President continued. "But we are trying to close those gaps in order to help Ukrainian refugees".
"Nevertheless, our priority lies in Ukraine", Nicolas emphasised. "People are getting constantly bombed. [...] That's why we are sending now mostly medical equipment and planning a lot of different actions in Ukraine". To date, LUkraine asbl has sent ten ambulances to support Ukrainian hospitals. As Nicolas explained, over 100 hospitals have been destroyed and over 500 hospitals partially damaged since 24 February. "We understand that having humanitarian aid, and especially aid for the hospitals, is essential for the people who stayed in Ukraine", he added.
In terms of the response of the Luxembourg population in offering support to Ukrainians during this challenging period, Nicolas described their solidarity as "simply great". He continued: "We had over 1,000 different volunteers from Luxembourg who helped us in the beginning to drive people [etc.], there were a lot of private initiatives coming from Luxembourgish citizens. We are really happy and grateful for those people who helped us in the beginning and still help us in our actions right now. [...] We have so many nice cases where you can feel that it comes really from the bottom of the heart. A big thank you [to] those people who helped us and are still helping us".
Nevertheless, as Nicolas emphasised, the war is ongoing and support is needed now more than ever: "We have seen the wave has gone down for financial assistance and humanitarian aid and there is some kind of psychological fatigue, which is normal. We do understand, of course, that people gave everything they had in the beginning. We try to find sustainable ways of development of our association and our projects themselves. We try to explain that the war hasn't finished yet and that those actions should be on a permanent basis. So, we urge everyone to keep helping us".
Children's summer camp
This interview was also the occasion for Nicolas to announce a new initiative set up by LUkraine asbl: a summer camp for Ukrainian children, starting on Monday 18 July 2022. The LUkraine asbl president explained: "The Ministry of Education of Luxembourg has done a great job in [schooling] Ukrainian children and they have also done summer camps in schools, but we see that some people didn't participate in those programmes. So, we decided to create a summer camp for Ukrainian kids, which will be held in Leudelange. We'll have four different shifts, for about 40-45 children each shift. We'll have a personalised approach and a ten-day programme with different topics to learn about Luxembourg, to learn about Ukraine, to be able to forget about things and concentrate on their childhood. Because we understand that children should not experience this type of events. The trauma they have had will be always remembered and we try to make them forget some events by proposing different activities during the summer camp".
The summer camp is also aimed at offering recently arrived parents, often mothers who have come to Luxembourg alone with their children, a safe place to leave their children whilst they continue their job search, go to work or attend courses. "We do understand that in order to be able to find work or to go to work or to go to the language courses, there should be a place where children go during the summer break", elaborated Nicolas. "[Parents] have to find a solution where they can leave their children, of course, in some nice place where they will have fun during the summer break".
Just last Saturday (9 June 2022), LUkraine asbl held an emotional tribute in Luxembourg City to the children who have died and continue to be affected by the war in Ukraine. Nicolas explained that children in Ukraine have not been attending school in person since 24 February "due to obvious reasons". Instead, many have continued their studies online and only some will be able to return to school (depending on the zone) when the new academic year begins in September 2022. It is estimated that over 300 children have already died since the start of the Russian invasion, including three children in the recent Vinnytsia attack, although actual figures are believed to be higher. "In Ukraine, you finish the school at the end of May; in Luxembourg, it's [mid-] July", Nicolas noted. "So, we decided to say that some children couldn't finish the school year and actually they will not be able to finish school. That's very important for Luxembourgish people to understand, that a lot of children are getting hurt due to the barbarous actions of the Russian Federation. We wanted to pay tribute to those children who gave their innocent lives during this war".
Returning to the subject of LUkraine asbl's original and current mission, specifically in relation to supporting children, Nicolas summarised: "We are just coming back to the initial humanitarian purpose of the association, trying to help children and youth in Ukraine. I think it's up to us to give a better future, and actually just a future, [to] those children. We should do the maximum we can to stop the war and to hope that those children will have a chance to make something great for this world afterwards".
Latest developments in Ukraine
Regarding the latest news coming out of Ukraine, Nicolas explained: "The situation is not changing. There is a full-scale war". He highlighted recent Russian missile attacks such as that of Vinnytsia's city centre on Thursday 14 July 2022, in which about 30 people died and more than 80 were injured, and the Russian strike on a shopping centre in Kremenchuk on Monday 27 June 2022, in which at least 20 people were killed and some 60 others were wounded. "We see that civilian infrastructure is getting destroyed, people are dying", stated Nicolas. "We do understand we are not protected from the skies so far. We really hope that we will have the possibility at least to protect civilians, which is the most important [thing], because they do not participate in this war. And [in] international laws, no civilian infrastructures should be attacked".
For further information about LUkraine asbl, visit https://ukrainians.lu/