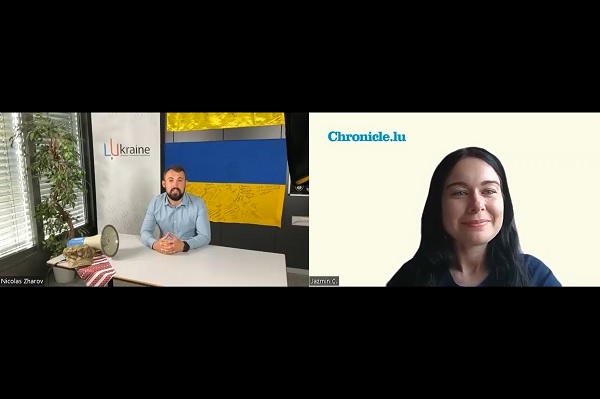 L-R: Nicolas Zharov, President of LUkraine asbl; Jazmin Campbell, journalist at Chronicle.lu; Credit: Screenshot
In a second weekly interview on Chronicle.lu, which took place via Zoom on Friday afternoon, Nicolas Zharov, President of LUkraine asbl, presented the structure of this local non-profit organisation representing Ukrainians in Luxembourg, as well as some of the training and cultural activities it offers, and shared his thoughts on the #KyivNotKiev campaign.
Volunteer-led action
Upon its creation in late 2013, LUkraine asbl was composed of a team of about six or seven people. "And then it started to grow", Nicolas explained. Numbers have varied over the years; at different times, there were between ten and 20 active members (excluding volunteers). For different events, the non-profit relies on the support of its network of volunteers. "In usual times, we had about 50 to 100 volunteers who were coming and helping during our events", Nicolas continued. He also explained that "none of the core members of the association is being paid. We have about 20 members together with the coordinators who work for the association on a voluntary basis and then we have our volunteers who are joining us for different events too".
The core team includes a president (Nicolas) and a vice-president (Inna Yaremenko), as well as a media team, a general secretary, a treasurer and coordinators for transport, education, refugee support, humanitarian aid, ICT and projects and demonstrations and several other committee members.
Since Russia launched its full-scale invasion of Ukraine on 24 February 2022, LUkraine asbl has been working together with "about 2,000 different volunteers who helped our association in different [ways]. There were drivers, people working in the warehouse, people organising different fundraising events [and] we have our media team who is working non-stop". Nicolas added: "We have about 50 to 100 people who are more or less active on a weekly basis and then we have a big pool of volunteers depending on the actions".
Offices / cultural & training centre
In terms of its premises and the activities on offer, Nicolas explained that, like any organisation, LUkraine asbl "need[s] space to work". He elaborated: "We started with the offer of our friends who were proposing different warehouses to collect humanitarian aid, but we also needed offices to work. That's why the City of Luxembourg proposed us a centre [with] some rooms, where we started to give information [to] refugees in the very beginning and then, we also opened the [Ukrainian] library over there". Since 1 June 2022, KPMG has been providing the non-profit with approximately 800m2 of office space in one of its buildings in Luxembourg-Kirchberg. On these premises, which serve as the non-profit's offices where the team works on a weekly basis, LUkraine asbl is also able to offer its language classes and workshops to "a lot more people".
The space is intended as a combined cultural and training centre, as Nicolas explained: "We understand that there is a big problem with the language barrier and we try to cover this issue first, so we give a lot of language courses. We have about twelve groups studying French and English and [...] we're doing different workshops concerning entrepreneurship, integration courses, everything about Luxembourg and also we have even some sport groups doing dances, different activities for children, yoga". He also announced an upcoming internal theatre production "by our volunteers for our volunteers", which is planned for later this month. Theatre is one of the areas covered in LUkraine asbl's workshops on its new premises.
#KyivNotKiev
On the subject of language and why it matters, Nicolas shared his opinion (and that of LUkraine asbl) on the importance of the #KyivNotKiev campaign and why the non-profit rejected the City of Luxembourg's recent proposal to name a new national road "Boulevard de Kiev" ("Kiev" being the official French name for, but also the Russian transliteration of, the Ukrainian capital). The LUkraine asbl President stated: "Language is a very important aspect of any country. In Ukraine, we have suffered [...] centuries of the battling of the Ukrainian language by Russia. [...] Now, we are fighting at least to pronounce our capital and other cities in the Ukrainian [way]". Whilst he recognised that this was meant as a gesture of solidarity on behalf of the City of Luxembourg to the Ukrainian people, and was grateful for this support, he felt that it was important to go all the way: "We suppose if we show this sign of solidarity with the Ukrainian people, we should do it 100%. Otherwise, it will be considered as a small victory for the Russians". Referring to the fact that the official name in French is still "Kiev", although several Francophone media outlets have begun using "Kyiv" instead, he said: "We believe that the transliteration of our capital will be changed; it has been changing a lot in the last three to four years. A campaign was launched by the Ministry of Foreign Affairs of Ukraine, and we hope that the French version will be officially changed rather soon".
Note that this interview took place before the City of Luxembourg's announcement that it would change the road name to "Boulevard de Kyiv". Following this news, Inna Yaremenko, Vice-President of LUkraine asbl, stated: "On behalf of LUkraine asbl and the Ukrainian community in Luxembourg, I'd like to express my deep gratitude to the municipal commission [the council of the City of Luxembourg] for hearing the voice of our community and approving the final name of 'Boulevard de Kyiv – Capital of Ukraine' - a gesture of true solidarity, once again proving an extensive support and understanding Ukrainians receive from the Luxembourgers".
"For us, Ukrainians, #KyivNotKiev goes much deeper than grammar and has a profound symbolic meaning to be able to use Ukrainian names for our cities, and not Soviet colonial ones, especially today, when our people are dying every day from Russian invasion", she continued. "Today we fight for the right to 'Mir wëlle bleiwe wat mir sinn!' [we want to stay what we are] as Luxembourg did in the past and regaining a possibility to speak our own language, and therefore use Ukrainian toponyms, means a lot for us. Thank you for being on our side!"
Watch the full video interview with Nicolas Zharov below (via YouTube); the first interview (in written and video format) is available here.