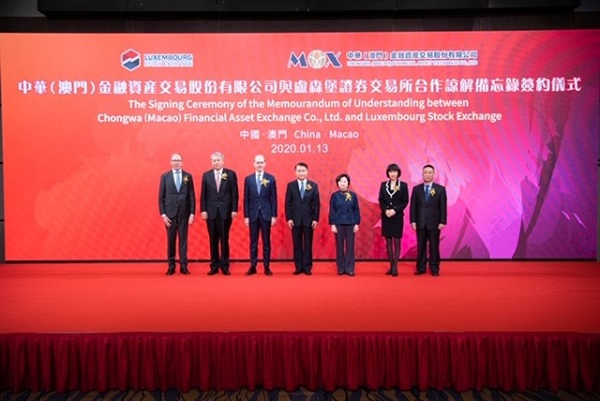 Credit: LuxSE
The Luxembourg Stock Exchange (LuxSE) today signed a Memorandum of Understanding with Chongwa (Macao) Financial Asset Exchange Co., Ltd. (MOX) in Macau.
The agreement marks the beginning of cooperation between the two parties, with a specific focus on promoting cross-border investment and liquidity for offshore RMB-denominated financial products.
Indeed, the Memorandum of Understanding (MoU) is the first agreement of its kind entered into by LuxSE and MOX, and is considered by LuxSE to be testament to the increasing importance of the financial developments in the Greater Bay Area.
Robert Scharfe, CEO of LuxSE, commented: "As we move into a new decade, LuxSE is proud to partner with MOX and continue our mission to establish links between capital markets and the international investor community. This agreement reflects LuxSE's strategy of expanding our international footprint and cooperate with selected exchanges across the world".
The Chongwa (Macao) Financial Asset Exchange is Macau's only exchange and was formally established in 2018. In the past two years, MOX has rapidly expanded to include issuers such as the Chinese Ministry of Finance. MOX is the only institution in Macau to facilitate bond issuance, as well as trading and settlement services.
Mex Zhang, Executive Chairman and President of MOX, commented: "This is not only a step forward for MOX's internationalisation, but also a key step for MOX, as a financial infrastructure in Macau, to actively cooperate with an important European partner to promote the development of the Macao bond market and push forward Macau's diversified economy".