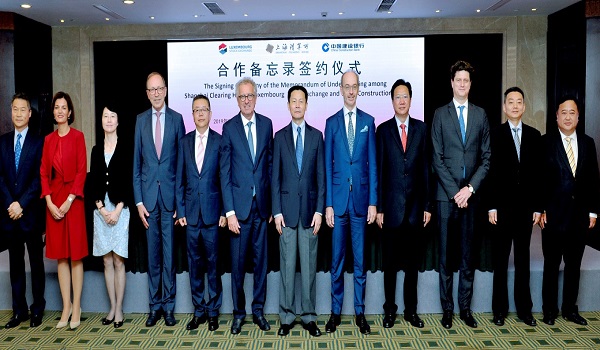 Credit: LuxSE
The Luxembourg Stock Exchange (LuxSE) has joined forces with Shanghai Clearing House and China Construction Bank to facilitate access to financial information on Chinese securities, while simplifying the execution process.
The official signing ceremony took place in Shanghai on Wednesday 18 September 2019, in the presence of Luxembourg's Minister of Finance, Pierre Gramegna, as well as a financial delegation from Luxembourg and the senior leadership of the three institutions.
The objective of the tripartite Memorandum of Understanding (MoU) is to establish a cross-border collaboration related to securities traded on the China Interbank Market, with a specific focus on green securities.
Robert Scharfe, CEO of LuxSE, explained: "With this agreement, our three institutions will work together to close the information gap that keeps many international investors from entering the China Interbank Market".
For its part, LuxSE will display information, in English, on securities cleared through Shanghai Clearing House to facilitate access to the China Interbank Market for the international investor community. Shanghai Clearing House will provide the relevant information on the securities falling under the scope of the agreement, while China Construction Bank will act as the primary partner for related investor services.
This MoU with Shanghai Clearing House and China Construction Bank represents an expansion of the LuxSE and Shanghai Stock Exchange's Green Bond Channel initiative, launched in 2018. This initiative was an important step towards facilitating access to information on Chinese securities listed on the Shanghai Stock Exchange.
Xie Zhong, Chairman of Shanghai Clearing House, commented: "This agreement will open a new chapter in the China Interbank Market cross-border cooperation by leveraging the advantages of the three institutions in cross-border market resources, product development and marketing, and clearing and settlement facilities. We will promote innovation in cross-border bond index products, cross-border collateral management, and facilitate cross-border issuance and listing".
The three parties were unified in their message of cooperation and expressed a shared objective of furthering economic development.