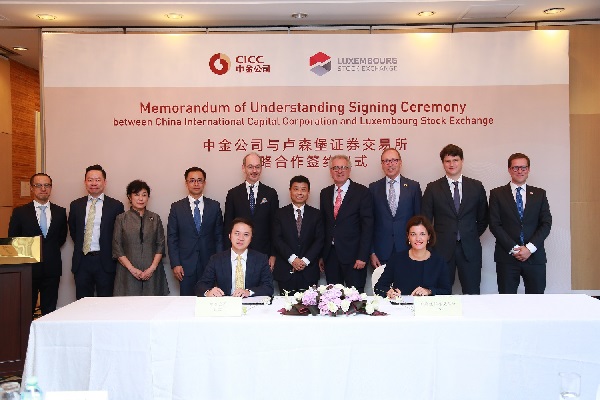 Minister of Finance Pierre Gramegna pictured with Robert Scharfe (CEO of LuxSE), Julie Becker (LuxSE), other members of the Luxembourg delegation and the senior leadership team of CICC; Credit: LuxSE
During the Luxembourg business delegation's recent official visit to China, the Luxembourg Stock Exchange (LuxSE) signed a Memorandum of Understanding (MoU) with China International Capital Cooperation (CICC), China's first joint-venture investment bank.
The official signing ceremony took place in Beijing on Monday 16 September 2019, in the presence of Luxembourg's Minister of Finance, Pierre Gramegna, and a financial delegation from Luxembourg, as well as the senior leadership teams of LuxSE and CICC.
The purpose of the MoU, which is the first official agreement between the two institutions, is to establish a mutually beneficial framework of cooperation for listing and trading activities. It will also facilitate cooperation in a broad range of financial market activities, with a specific focus on Renminbi-denominated securities. The overarching objective of the cooperation is to connect Chinese issuers to the international investor community and facilitate cross-border investments.
Robert Scharfe, CEO of LuxSE, explained: "This agreement speaks of our commitment to connecting our capital markets and facilitating cross-border investments. With its unique blend of Chinese roots and international reach, CICC is perfectly positioned to encourage interaction and understanding between China and international markets".
Bi Mingjan, Director and CEO of CICC, added: "We believe the collaboration between CICC and LuxSE will facilitate financial innovation, the development of green finance and especially the interaction between the capital markets in China and Luxembourg".