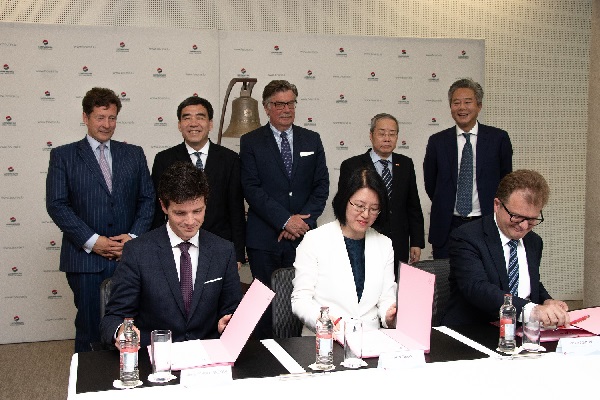 MoU signing; Credit: LUXSE
The Luxembourg Stock Exchange has signed a Memorandum of Understanding (MoU) with China Construction Bank, one of the world's biggest banks.
The official signing ceremony took place at the Luxembourg Stock Exchange on Friday 31 May 2019, in the presence of His Excellency Huang Changqing, the Chinese Ambassador to Luxembourg.
The purpose of the MoU is to establish a mutually beneficial framework of cooperation and partnership between China Construction Bank and the Luxembourg Stock Exchange. Indeed, the partnership will facilitate cooperation between the two institutions in financial market activities in the context of the internationalisation of Renminbi. More specifically, China Construction Bank and the Luxembourg Stock Exchange will share insights into listing and trading activities and products, with a specific focus on Renminbi-denominated securities. The two parties will cooperate in the listing of bonds, derivatives and investment funds and work together to boost innovation within the field of trading products.
"Given China Construction Bank's size, position and reputation, this collaboration is an essential step in our ambition to link markets and investors, in China and abroad, and thereby play an active part in the internationalisation of Renminbi," stated Robert Scharfe, CEO of the Luxembourg Stock Exchange.
Tian Guoli, Chairman of China Construction Bank, added: "Luxembourg may be a small country in size, but in terms of finance it is playing an important role on the global scene. This cooperation will help investors from both countries find new opportunities".
China Construction Bank, founded in 1954, is headquartered in Beijing in China and opened its European headquarters in Luxembourg in 2013. In September 2018, the bank listed its first green bond (worth €500 million) at the Luxembourg Stock Exchange. The bond was displayed on the Luxembourg Green Exchange and the proceeds will be used to finance projects linked to clean transportation, renewable energy and pollution prevention.