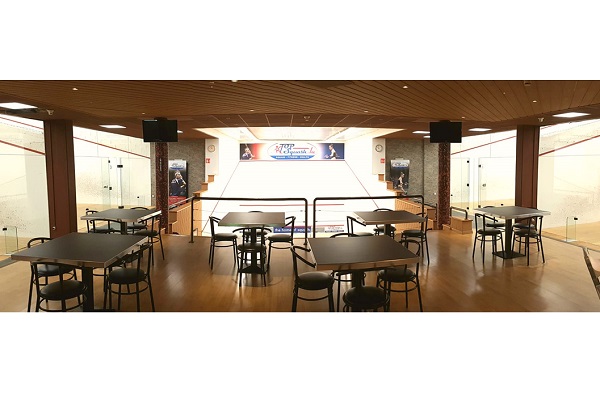 Top Squash Fitness & Leisure: appropriately empty building during its first day of closure in 32 years; Credit: Dis Bond / Top Squash
Chronicle.lu recently got the opportunity to speak with Dis Bond, Managing Director of Top Squash Fitness & Leisure in Sandweiler, about how the squash club has been impacted by and responded to the COVID-19 pandemic over the past 23 months.
Chronicle.lu: Looking back, how have you coped with the various COVID-related restrictions over the past (almost) two years?
Dis Bond: The various restrictions were challenging to say the least. Mainly because Top Squash's activities are so diverse, we fell under the restrictions for the Horesca [hospitality] sector, fitness centres, competitive sports, after-school activities for children, dance schools and wellness. At times, these restrictions were in total conflict for us. For example, at one stage four people were allowed to play squash together without social distancing, masks or rapid tests, but those same four could not sit down to have a drink together after their doubles match / training without a negative rapid test. Before that, a limited number of people could exercise, but I could only sell them water to take away. Keeping track of what the current restrictions were for each sector was a challenge in itself and implementing them to be in order with each restriction was at times interesting. We are fortunate enough to have an amazingly supportive group of members who happily did whatever we asked of them so that they could practise their sport without questioning the logic or practicality.
Chronicle.lu: Have some of the government financial support schemes helped?
Dis Bond: Yes, without the financial support we would not have made it this far.
Chronicle.lu: Were you able to keep staff or did you have to let some go?
Dis Bond: We managed to keep all our staff although some were on "chômage" [partial unemployment] longer than others.
Chronicle.lu: Have you found that you need additional staff, or at least to deploy current staff, on extra duties, e.g. CovidCheck?
Dis Bond: Yes, due to our long opening hours we needed to both deploy staff and extend the working hours of others.
Chronicle.lu: Now that restrictions have eased somewhat, and are continuing to ease, have you been able to reopen all your services that you have offered before COVID-19?
Dis Bond: Yes, we are now pretty much fully functional, if on a smaller basis.
Chronicle.lu: With many people setting the new year resolution of getting fit, have you experience many new members in the last month or so?
Dis Bond: We have not had anywhere near as many new members in January as we did pre-COVID.
Chronicle.lu: Approximately what percentage of pre-COVID membership numbers are you now at?
Dis Bond: Approximately 65%.