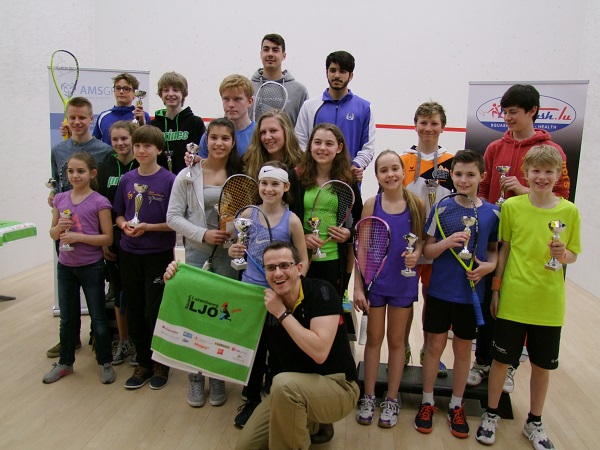 The Luxembourg Junior Open 2016, an international squash competition for young players, took place this week-end at Top Squash in Sandweiler.
83 competitors representing no less than nine different nationalities took part to this challenge over three days of a breathless competition with four age categories for boys and three categories for girls.
Players of Belgium, France, Germany, Nederlands, England, Ireland, Liechtenstein, Qatar participated to this sixth edition; Luxembourg was represented by 17 young players.
With The Netherlands dominating the girls' under-age championships, the boys' under-age competitions saw winners from Belgium, Liechtenstein and Qatar.
WINNERS
- Girls under 13: Elfi Markus (The Netherlands)
- Girls under 15: Jana Schellmoser (Germany)
- Girls under 19: Juliette Permentier (The Netherlands)
- Boys under 13: Nathan Masset (Belgium)
- Boys under 15: Thimi Christiaens (Belgium)
- Boys under 17: David Maier (Liechtenstein)
- Boys under 19: Umair Zaman (Qatar)
The event was organised by the Luxembourg Squash Federation, with sponsorship from the Luxembourg Ministry of Sport, BNY Mellon, Loterie nationale, Husky, Labgroup and Sudgaz, as well as with Top Squash, AMS System PSF, Voyages Emile Webe and Ibis Hotel as tournament partners.
Photos by Geoff Thompson