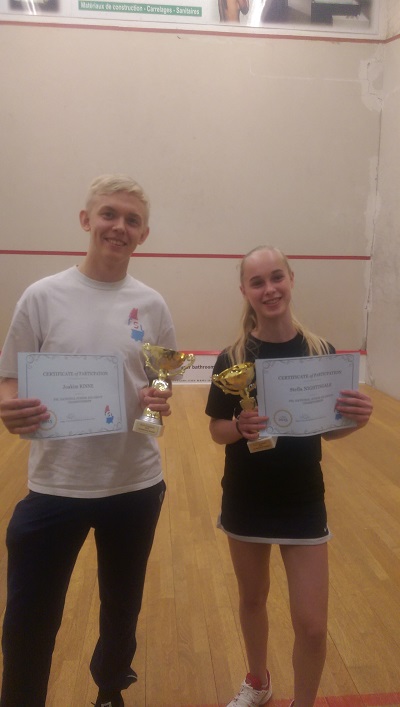 On Sunday, 17 May 2015, Top Squash hosted the 2015 Luxembourg Squash Federation National age group Championships, the penultimate tournament before the end of season junior rankings.
These are released in the coming weeks and competition on the day reflected the desire of all participants to finish in top spot in their respective categories. From girls under 11s to boys under 19s, the junior players displayed a fantastic showcase for squash in Luxembourg, demonstrating its blooming development and young talent, as praised by the FSL Comité des Jeunes chairman Tony Nightingale during the prize giving ceremony.
The tournament got underway at 09:00, and was in full swing half an hour later, when all 7 courts were in use, and remained so throughout the course of the day in what was a busy one for Top Squash. In the 5-hour period that the competition ran for, a total of 70 matches were played. Each match lasted an average of 23 minutes. Local clubs Top Squash, Ettelbruck, Pétange, G Squash and the EIB were represented by the 36 participants, of which 3 clubs had players come away with silverware.
The boy's u11 category was the only one played in a compass draw style, with 11 players competing, all of whom deserve a special mention for the great matches and performances that were produced, with six games going to an exciting 5 sets. Pétange's Yannis Hebbelinck ran away with the title in this group, winning 3-0 in the final. Runner-up Paul Ross produced the match of this group against James Coast, a 5 set thriller in which the first game went to an outstanding 20-18. Despite finishing bottom of the group, 7-year-old Simon Hermansson showed great promise, as did 8-year-old Joseph Burman and 3rd placed Raphael Magron-Lorenzo.

The girl's u11 draw was won by Top Squash's Lydie Wykes, who won 4 of her 5 games with a commanding 3-0 score line before losing to 3rd seeded Lily Vigor in her final match, who finished top of the girls u13 draw. The runners up in the girls' u11 and u13 age groups were Maya Darlington and G Squash's Ophélie Verhoeven resepctively.
G Squash had another winner in Corey McMahon, who won an impressive 15 of 16 games in his 5 matches, and topped the boy's u13 category above runner up Loic Minne. Lukas Sharplin and Matéo David produced the match of this group, which went to an exciting 5th set and drew a loud crowd of parents and resting players.
The girl's u17 draw was won by Stella Nightingale, with Kimberly Bond coming in 2nd place. U15 Lisa Nightingale competed well with the u17's and consequently took top spot for girl's u15's.
In a very tightly contested boy's u15 draw, with the top 3 being decided on point's difference, Pétange's Miguel Duarte finished first, ahead of Top Squash's Alistair Reid and Philippe Olinger respectively.
Joakim Rinne took the u19 top spot, although competing in the u17 group. Yann Ockenfuss and Archie Williams both performed well and took 1st and 2nd place respectively in the boy's u17. Tom Bermingham showed great promise and continues to rapidly improve despite not getting the results he would have wanted.
Tournament organiser Nathan Sneyd was satisfied with turnout of the tournament despite it having been postponed earlier in the season. He gave a special mention to the performances of senior players Stella Nightingale and Joakim Rinne, and the quality of squash displayed at the tournament in general. He praised the current representation of junior squash in the Grand Duchy, in particular at u11 age level. The goal is to continue along the line of development that junior squash in Luxembourg is currently on and progress further.