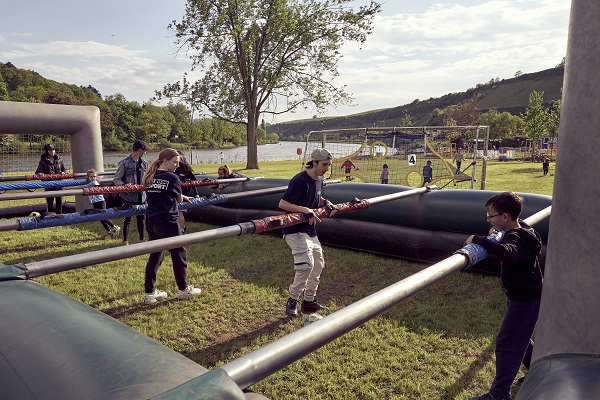 Credit: SNJ/Standart
Luxembourg's Ministry of Sport and the National Youth Service (Service national de la jeunesse - SNJ) announced that on Saturday 13 May 2023, over 18,000 individuals took part in the fourteenth edition of the "Nuit du Sport" (night of sport).
This year saw 42 municipalities and organisers follow the national call to join the initiative and offer an evening of sports and physical activities.
The SNJ and the Ministry of Sports launched the "Nuit du sport" project in 2009 as part of the national action plan "Gesond iessen, Méi beweegen" (eating healthy, moving more).
In all, some 140 activities and workshops were offered by youth houses, sports clubs and associations, daycare centres and municipal services.
According to the Ministry of Sport, the activities offered during the "Nuit du Sport" aim to be original, intergenerational and inclusive above all. The participants - citizens from all walks of life, regardless of their social status, nationality, age and physical predisposition - were thus able to (re)discover a taste for physical activity and a healthy lifestyle.
The fourteenth edition took place in the following municipalities: Beckerich, Bertrange, Bettembourg and Leudelange, Bissen, Biwer, Clervaux, Colmar-Berg, Contern, Differdange, Dudelange, Echternach, Esch-sur-Alzette, Esch-sur-Sûre (Lultzhausen), Feulen, Frisange, Grevenmacher, Helperknapp, Hesperange, Junglinster, Kayl, Kopstal, Lorentzweiler, Luxembourg-ville, Mamer, Manternach, Mersch, Mondercange, Mondorf-les-Bains, Niederanven, Pétange, Préizerdaul, Roeser, Rumelange, Sandweiler, Schengen, Schieren, Schuttrange, Troisvierges, Wiltz, Wincrange and Wormeldange.