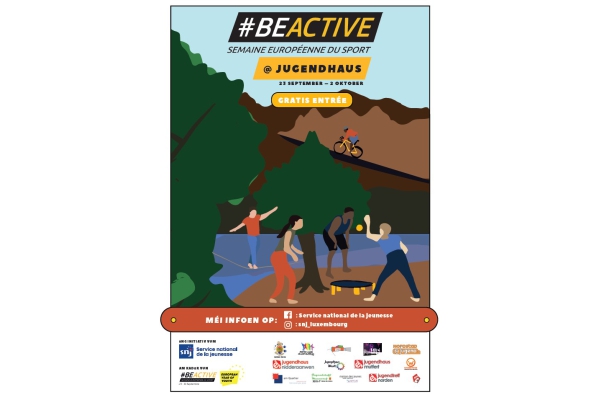 Credit: SNJ
As part of the European Week of Sport, which takes place every year from 23 to 30 September, the National Youth Service (Service national de la jeunesse - SNJ) announced the #BeActive@Jugendhaus initiative.
After the launch of the initiative in 2020, the #BeActive@Jugendhaus is starting its third edition this year.
Sixteen youth centres take part in the initiative and offer various workshops under the theme of sport and movement, with the aim of encouraging young people to move more and discover new sports.
Programme
From Friday 23 September to Sinday 2 October 2022, young people from all walks of life will have the opportunity to discover around 30 different sports and take part in workshops across the country.
The youth centres taking part in the 2022 edition are: Jugendtreff Déifferdang, Dikricher Jugendhaus & Ettelbrécker Jugendhaus (Nordstadjugend), Juki ASBL Kehlen, Jugendhaus Léideleng, Maison des jeunes Henri Trauffler Mamer, Jugendstuff Munneref, Jugendhaus Mutfert, Jugendhaus Nidderaanwen, Jugendtreff Norden , Péitenger Jugendhaus, Jugendhaus Rëmeleng, Jugendzentrum am Quartier, Jugendhaus Woodstock Walfer, Jugendhaus Wooltz and CRIAJ Grevenmacher.
A diversified sports programme awaits the public: Bikepark, Crossfit, E-Mountainbike, Freestyle Football, Indoor Hockey, Krav Maga, Muay Thai, Night-Swimming, or Yoga are just a few examples among many others. Some partners also offer workshops that revolve around health and a balanced diet. The trend for the 2022 edition is certainly turned towards urban sports such as Parkour, Slackline, Spikeball, Teqball, or even Ultimate Frisbee.
Participation is free and is mainly aimed at young people aged twelve to 30, while some workshops are also open to children. Anyone interested can register and the main focus is the will to move!
The complete programme and the terms of participation is available online via: https://www.snj.public.lu/beactivejugendhaus-2022/.