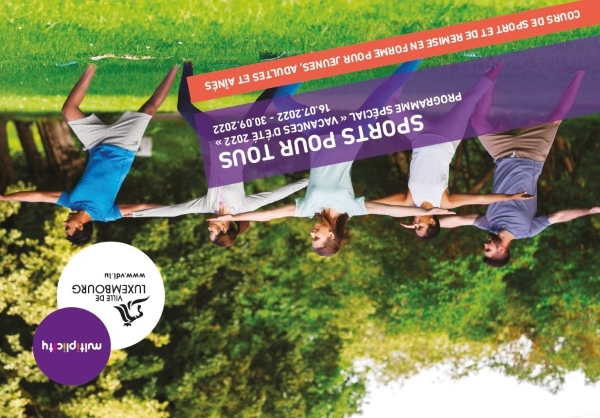 Credit: VdL
The Sports Service of the City of Luxembourg (Ville de Luxembourg) has announced that it is organising a range of outdoor sports and leisure activities as part of a special programme "Sports for all - summer holidays" on the Kinnekswiss at the municipal park in the capital.
From Saturday 16 July until Friday 30 September 2022, various activities will take place on the Kinnekswiss daily from 11:30 to 19:30.
Sports activities for young people, adults and seniors
The programme for young people aged twelve to sixteen includes team sports, such as beach volleyball or football, as well as individual sports such as bodybuilding, fitness gym or jogging.
Classes for adults are mainly focused on fitness, gymnastics, bodybuilding or outdoor activities, such as jogging, beach volleyball, qi gong, taijquan or Nordic walking.
All the entertainment and sports activities taking place on the Kinnekswiss will be supervised by sports instructors and trained animators.
Sports and fun activities on the Kinnekswiss
In addition to the many sports lessons indoors or outdoors, the City of Luxembourg also organises daily activities on the Kinnekswiss. Alongside the regular Taijiquan and Qi Gong classes, the City provides free sports equipment and activity leaders advise the public and guarantee continuous sports activities on the site throughout the week.
Registrations
Leaflets with the complete programme are available at the Bierger-Center, at the Town Hall, in the town's sports facilities, at the Sports Department and on the website sports.vdl.lu.
Those interested can request a registration form from Service Sports (90, boulevard de Kockelscheuer, L-1821 Luxembourg, via tel.: 4796-4415 or email: sports@vdl.lu).