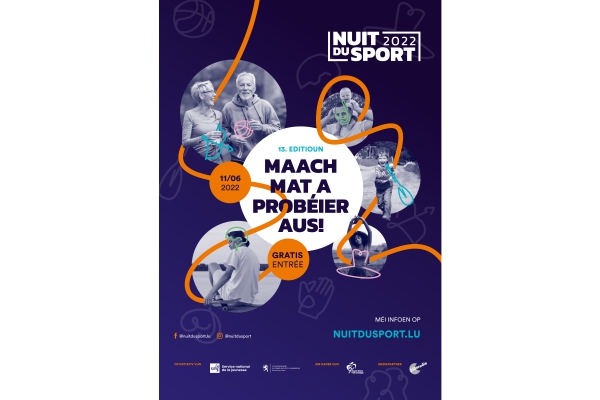 Credit: SNJ / Ministry of Sport
Luxembourg's Ministry of Sport and the National Youth Service (Service national de la jeunesse - SNJ) announced the 13th edition of "Nuit du Sport" (night of sport), taking place on Saturday 11 June 2022.
After a limited version due to the health crisis in 2021, a return to normal for this year shows a re-emerging interest in organising sports activities. A total of 43 municipalities, the highest number since the beginning of the initiative, have registered to set up an evening around the discovery of sports practices under the slogan "Maach mat a probéier aus!".
The initiative was first launched in 2009 by SNJ and the Ministry of Sports as part of the national action plan "Gesond Iessen, Méi Beweegen" (GIMB; eat healthily, move more). During this annual event, the municipalities mobilise sports clubs, sports commissions, youth centres and other associations and structures to offer sports and original activities.
This year will see a varied and festive programme, with around 150 sports and workshops for all tastes. A highlight this year is a show with in particular the triple BMX-Flatland world champion, Viki Gómez, in Differdange, as well as the workshops led by Suzy Godart, Luxembourg champion of road cycling, mountain biking and cyclocross, in Bettembourg-Leudelange and by freestyle football artist Sven Fielitz in Kopstal.
Alongside classic sports such as handball, basketball and tennis, visitors will be able to make surprising discoveries with Afrozumba and Calistenics workshops in Luxembourg-ville, Tabata in Mersch, mountain biking and Quadrix in Préizerdaul, a Bootcamp in Schuttrange, water sports such as Stand-up Paddle in Lultzhausen, Aquafitness and diving in Wiltz and Differdange.
On the urban sports side, Crossminton, Capoeira and Slackline will be open for discovery and on the soft sports side, Sophrology and Yoga will be demonstrated as well. For those who prefer to try their hand at dance or outdoor activities, there will be possibilities from Nordic Walking, to Beach volleyball to triathlon.
Finally, the organisation will also provide games and entertainment for the whole family, like bouncy castles, "Pompjesspiller" and games of yesteryear.
For this 13th edition, visitors can take part in a competition. It will require scaning the QR code on the entry bracelet and answering the questions for a chance to win one of the many prizes.
Admission is free with on-site registration. Detailed information and all the activities is available online via: www.nuitdusport.lu.