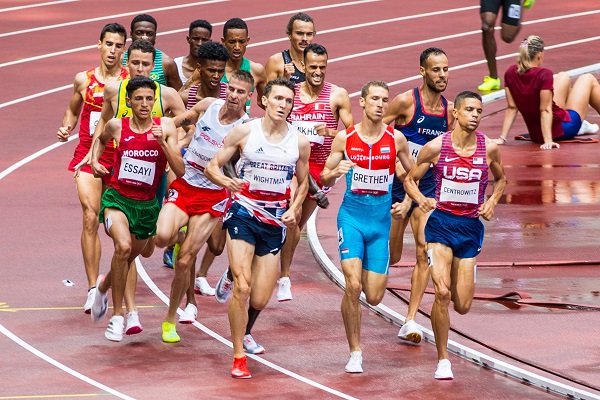 Charles Grethen at Tokyo 2020; Credit: COSL
Cyclist Christine Majerus and middle-distance runner Charles Grethen have been named Luxembourg's "Sportspeople of the Year".
Created in 1954, the "Sportler vum Joer" ("Sportsperson of the Year") award aims to reward athletes from Luxembourg. Presented annually by the Luxembourg sports press association Sportspress.lu, this year's top winners were Christine Majerus, who was named "Sportswoman of the Year" for the seventh time, and Charles Grethen, who was named "Sportsman of the Year" for the very first time.
Christine Majerus is a professional road and cyclo-cross cyclist from Luxembourg. She currently rides for UCI Women's WorldTeam SD Worx. She has won every Luxembourgish Women's National Road Race Championship since 2010. In 2021, she represented the Grand Duchy at the 2020 Summer Olympics in Tokyo.
Luxembourg karate practitioners Kimberly Nelting and Jenny Warling rounded out the top three in the "Sportswoman of the Year" category.
Charles Grethen is a Luxembourgish middle-distance runner who competes primarily in the 800 and 1,500 metres. He was one of the finalists in the men's 1,500 metre event at the 2020 Tokyo Olympics, where he finished in 12th place.
In second and third place in this year's "Sportsman of the Year" category were Luxembourg football player Leandro Barreiro and racing driver Dylan Pereira, respectively.
The Automobile Club of Luxembourg (ACL) gave special praise to Dylan Pereira, who is the first racing driver to make the top three since Nico Demuth in 1976. To this day, Nicolas Koob remains the only driver to take first place (Sportler vum Joer 1970). In a press release issued on Tuesday, the club noted that: "ACL Sport is thrilled with the sporting accolade that has been brought to motor racing. It is counting on the growing popularity of Dylan Pereira and other young Luxembourg talents to breathe new life into motorsport. ACL Sport is hoping to see more drivers climb onto the podiums at their respective championships next year".
The following Luxembourg athletes also received recognition at the Sportler vum Joer Awards Night, which took place at Casino 2000 in Mondorf-les-Bains on Sunday 5 December 2021: table tennis players Ni Xia Lian and Sarah De Nutte, swimmer Julie Meynen, volleyball player Kamil Rychliki, footballers Sébastien Thill and Gerson Rodrigues, and Bob Bartemes, an athlete specialising in the shot put.