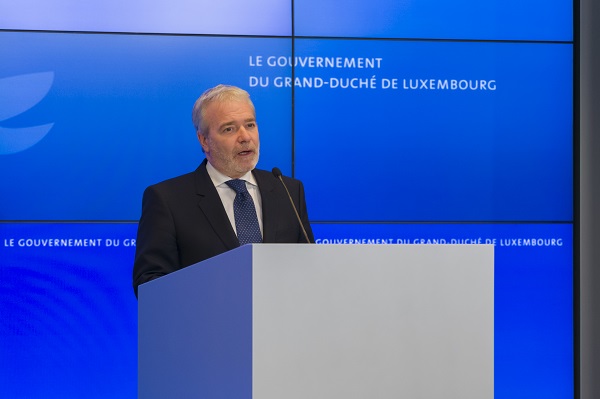 Dan Kersch, Luxembourg's Minister of Sport; Credit: © SIP / Emmanuel Claude, all rights reserved
At a press conference on Friday afternoon, Luxembourg's Minister of Sport Dan Kersch presented measures related to the gradual resumption of sporting activities as part of the second phase of the national lockdown exit strategy.
The Sports Minister explained that the resumption of outdoor sports from Monday was a significant step forward for Luxembourg. Nevertheless, he stressed that such activities would be allowed only under certain conditions. Indeed, only non-contact and non-competitive sports are allowed. Dressing rooms and showers will remain closed, as will all public swimming pools.
Minister Dan Kersch went on to explain that 27 out of 53 sports federations had submitted proposals for resuming sporting activity in a safe way. These proposals have taken into account concepts used in other countries, as well as new concepts developed in cooperation with the Comité Olympique et Sportif Luxembourgeois (COSL), the Luxembourg Institute for High Performance in Sports (LIHPS) and the various federations.
Regarding sports schools like the Sportlycée, Minister Kersch confirmed that a special sports programme is foreseen from 18 May 2020. Regarding sports infrastructures owned by private individuals or municipalities, the owners will have the last word as to whether they reopen or remain closed; there is a balance between municipal law and rights to property.
The Sports Minister recalled that various regulations had been implemented prior to the resumption of training for elite athletes at d'Coque in Luxembourg-Kirchberg on 4 May 2020. He explained that every athlete is inspected by a nurse upon arrival and strict hygiene measures were implemented, with at least one representative of the LIHPS present at all times to supervise athletes. Dressing rooms and showers are closed and a maximum number of people (e.g. five or seven including athletes and coaches) is allowed in individual rooms at any given time. Athletes must wear masks except during training, as well as respecting a 5 metre safety distance between themselves. The sports clinic of the Centre Hospitalier de Luxembourg is also available in case athletes display COVID-19 symptoms.
Regarding sporting activities to be allowed in the Sportlycée from 18 May, Minister Kersch pointed out that there are different categories depending on the perceived level of risk. He cited badminton as a low risk sport, where each player will have his / her own shuttlecock and should respect a 5 metre distance for health and safety reasons. Basketball is considered a medium risk sport where there should be one hoop per player on the court; neither one-on-one nor two-on-two matches will be allowed. Finally, volleyball is considered a high risk sport, which will remain banned in schools. However, Sportlycée students who normally play these high risk sports will be able to opt for weight training and other sports until playing resumes. The same rules apply for beach volleyball.
Dan Kersch concluded by stressing that the gradual resumption of sporting activities from next week does not mean that specific rules no longer apply. He added that Luxembourg had already imposed less strict restrictions on physical activity than other countries.
In the Q&A session that followed, Minister Kersch clarified that gyms and fitness centres will not be allowed to reopen next week since they fall into the category of non-essential businesses where the risk to the population's health remains too high.