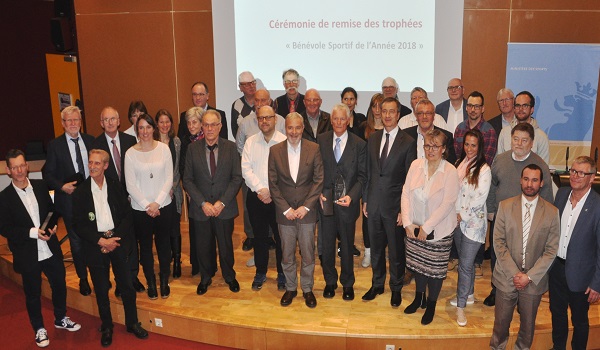 This year's winners pictured with Minister of Sport Dan Kersch; Credit: MSPORT
On Wednesday evening, 36 sportspeople received trophies at the awards ceremony of the "Sports Volunteers of the Year 2018", held at La Coque, Luxembourg.
Sports Minister Dan Kersch and President of the Luxembourg Olympic and Sports Committee (COSL) André Hoffmann chaired the annual recognition and award ceremony this year. This was the 10th ceremony of its kind since 2009, an initiative meant to highlight the hard work and dedication of thousands of sports leaders on which the functioning of the Luxembourg sports movement is based.
The Minister of Sport and the President of the COSL did not miss the opportunity to highlight in their respective speeches the importance of volunteer work within sports associations and federations and to thank all those who, in some way or other, contribute to the smooth running of the movement and of the many sporting competitions and events organised in Luxembourg.
They then presented the trophies to the 36 laureates proposed by the respective federations and to the three national winners chosen by a jury from the 36 candidates proposed.