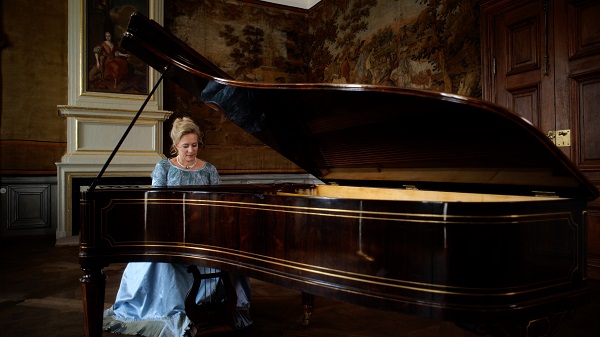 Trio Cenacle: Victor Hugo "A Vianden" film still; Credit: James Chan-A-Sue
On 18 June 2021, the Mierscher Kulturhaus in Mersch will host the premiere of the project "Victor Hugo" by the Trio Cénacle, a classical / romantic trio with Luxembourg pianist Michèle Kerschenmeyer.
This multidisciplinary project combines poetry, classical music, film, performing arts and Luxembourg's cultural heritage and is placed under the patronage of Jean-Claude Juncker.
In commemoration of the 150th anniversary of Victor Hugo's last stay in Luxembourg, the Trio Cénacle presents an intermedia recital. In this scenic-musical evening, his texts and poems, both set to music and recited, take a look at Victor Hugo's political and artistic visions, but also touch on references to our present, thus encouraging us to re-think Europe. The centrepiece of the evening is the musical short film "Victor Hugo – A Vianden", based on the poem "A Vianden" (in Vianden) by Victor Hugo and its setting to music by Luxembourg composer Marco Pütz. "A Vianden" was written by Hugo on 8 June 1871 after fleeing Brussels and powerfully compares the rural idyll of Vianden with the atrocities of the Paris Commune. If Victor Hugo was confident that only a United Europe could lead to the peaceful coexistence of countries, today we ask ourselves: "Quo vadis, Europe?"
The project, which is in French language, will premiere at Mierscher Kulturhaus (53 Rue G.-D. Charlotte L-7520 Mersch) on 18 June 2021 at 20:00. Tickets cost €24, €20 (RBS), €10 (student) or €1.50 with a Kulturpass, and can be purchased online at: www.luxembourg-ticket.lu.
Further performances are planned from autumn 2021 on and a preview of the short film is taking place on 8 June 2021 in Vianden.