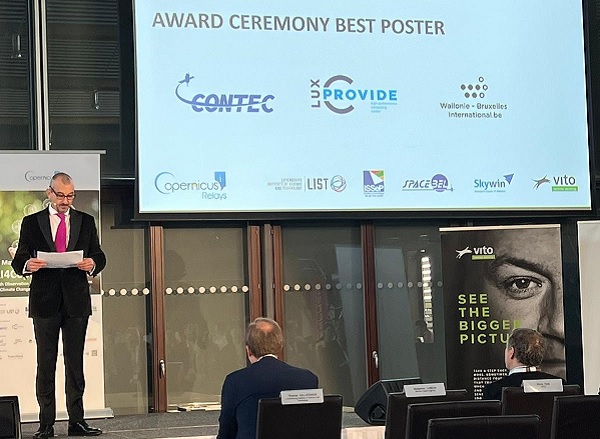 On Thursday 25 May 2023, CONTEC launched the advanced satellite imaging solutions at the AI4 Copernicus Event (organized by LIST) in Luxembourg at the LUXKO (The Korean Business Centre) in Steinsel.
CONTEC is a leading provider of satellite pictures and space technology; the AI4Copernicus conference aimed to bring together industry leaders, experts and stakeholders to discuss the future of satellite technology and its diverse uses in terms of the global climate change prediction. With a strong emphasis on satellite-based earth observation and AI analysis, the event was a significant platform for sharing knowledge and insights.
The conference featured a welcome address by Franz Fayot, Luxembourg's Minister of the Economy, emphasising the crucial role of satellite technology in driving economic growth and scientific advancements. Distinguished guests attending the event also included Thomas Dermine, State Secretary for Science Policy, Recovery Program, and Strategic Investments at the Belgian Federal Government.
Dr. Heein YANG of CONTEC delivered an enlightening presentation on CONTEC Space Studio during Session 2: Climate Change and Water Security at the AI4 Copernicus conference. The session offered attendees valuable insights into the future of satellite-based earth observation and showcased CONTEC's state-of-the-art satellite imaging technologies.
CONTEC Space Studio is a powerful tool designed to analyse satellite images on a large scale, addressing global concerns related to climate change and water security. By leveraging advanced analytics and cutting-edge AI algorithms, the tool provides a comprehensive solution for extracting valuable insights from satellite imagery. During the session, Dr. YANG demonstrated the capabilities of CONTEC Space Studio and highlighted its potential applications. The tool enables users to process and analyse satellite images to detect changes in land cover, monitor water availability, and assess weather patterns. This critical information aids in addressing environmental challenges and facilitates proactive decision-making.
In order to meet the demand for satellite imagery, CONTEC decided to launch its own satellite to secure the satellite image data. To this end, CONTEC has established the satellite imagery company "CONTEC Earth Service (CES)" to focus on the sale of satellite image collected from its own satellite fleet and the major earth observation satellites operated by Korea Aerospace Research Institute and other global satellite firms. Furthermore, CONTEC established a company for optical camera development named "CONTEC Space Optics (CSO)" to develop and deliver cameras for CONTEC's optical satellite constellation.
The CONTEC group aims now to strengthen its position in the space market by satellite imager distribution and payload development, which can enhance synergy with ground station businesses, and expand its business internationally.
In addition to their participation in the AI4Copernicus event, CONTEC is also set to host the esteemed International Space Summit in Jeju, South Korea, in June 2023. It will serve as a valuable platform for exchanging information and discussing advancements in the global space sector.