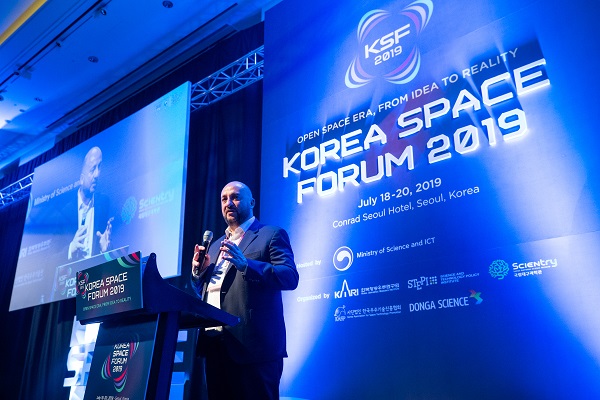 Deputy PM, Étienne Schneider; Credit: MECO
On Thursday 18 July 2019, during the last day of Luxembourg's trade mission to South Korea, Luxembourg's Deputy Prime Minister, Minister of the Economy, Étienne Schneider, presented the Luxembourg space sector at the "Korea Space Forum".
This is the first conference in Northeast Asia devoted entirely to the emergence of the commercial space industry, which aims to explore the economic possibilities of space. Under the theme "Open Space Era, from Idea to Reality", the forum in Seoul was organised by the Ministry of Science and ICT of the Republic of Korea, in collaboration with Donga Science, a media company specialising in science, and the Korean Institute for Aerospace Research.
In his opening address, Minister Schneider said "Luxembourg is poised to play a pioneering role in the development of a commercial space economy oriented more particularly to the exploration and use of resources in space. The Grand Duchy is the first European country to introduce legislation recognising that private companies can own space resources. To ensure a continuous and coherent development of the international space sector, it is now essential for Luxembourg to exchange with other countries that have similar objectives."
In a bilateral meeting with You Young-min, Minister of Science and ICT of the Republic of Korea, during the last day of the economic mission, Minister Schneider highlighted recent developments in the Luxembourg space sector with his initiative SpaceResources.lu and the activities of the Luxembourg Space Agency.