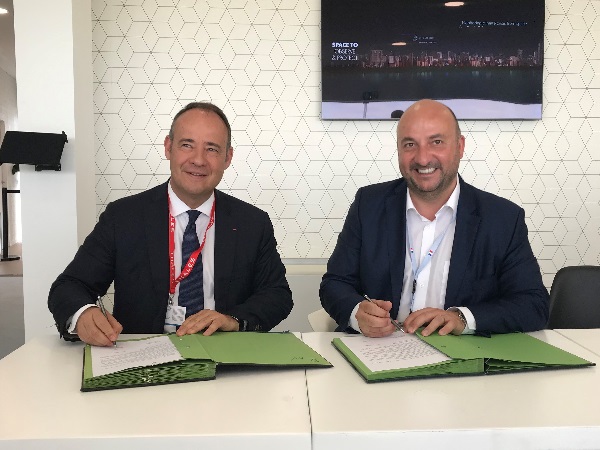 L-R: Jean Loïc Galle, CEO Thales Alenia Space; Étienne Schneider, Deputy Prime Minister, Minister of the Economy; Credit: MECO
The Luxembourg Ministry of the Economy and Thales Alenia Space today signed a letter of intent regarding the creation of a Digital Centre of Excellence in the Grand Duchy.
By signing this letter of intent, Thales Alenia Space, a joint venture between Thales (67%) and Leonardo (33%), has confirmed its intention to accelerate its initiatives and cooperation with Luxembourg. The new centre, Thales Alenia Space in Luxembourg, will focus on the development of highly innovative digital solutions for space telecommunications and observation products.
Fully supported by the Ministry of the Economy of Luxembourg and the Luxembourg Space Agency, the initiative completely aligns with Luxembourg's Space and Digital Strategy.
According to Jean Loïc Galle, CEO of Thales Alenia Space: "With this new Digital Centre, Thales Alenia Space plans to develop Innovative Minimum Viable Products (MVP) in close relation with its customers, to be an anchor for local and regional business development and to actively participate in the Luxembourg innovation ecosystem".
For his part, Étienne Schneider, Deputy Prime Minister and Minister of the Economy, welcomed the initiative, stating that: "Digital Transformation and Space Technologies have become a crucial topic for businesses in today's rapidly changing and complex environment". He added: "In line with our data-driven innovation strategy and policy for the development of commercial space, Luxembourg is well-positioned to work with Thales Alenia Space to foster technologies that can support an efficient and sustainable space sector, as well as encourage further uptake of space-based products by end users."
The Digital Centre of Thales Alenia Space is expected to be operational in Luxembourg by the end of 2019 and will be designed as well as organised according to the experience and best practices inspired by Thales Digital Factory.