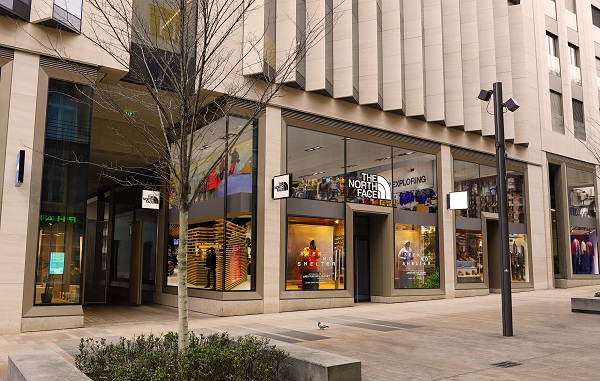 Firce Capital, an asset management and real estate investment company, and Outdoor Diffusion, a retailer specialising in the opening and management of premium outdoor stores, have announced the arrival of the renowned brand The North Face at the Royal-Hamilius, on rue Aldringen in Luxembourg-Ville.
This is the first The North Face store to open its doors in Luxembourg. The American brand, featuring among the frontrunners in the outdoor apparel brands and specialised in mountain sports equipment, will open its doors in autumn 2023 on an area of 342 m², over two floors. The arrival of The North Face is expected to further strengthen the attractiveness of the Royal-Hamilius commercial offering, aimed at a young, urban and family clientele.
"We are very proud to welcome the very first Luxembourg store The North Face at the Royal-Hamilius," said Christophe Fournage, President of Firce Capital. "The arrival of this prestigious brand at the Royal-Hamilius demonstrates its strong appeal among world-renowned fashion brands. Our ambition is to continue to offer a premium offering to attract an ever-increasing number of customers and visitors."
The Royal-Hamilius shopping centre is located in the centre of Luxembourg City, at the intersection of Boulevard Royal and Grand-Rue, the primary commercial thoroughfare of the city. It is surrounded by shops, restaurants, housing, offices and green public spaces. The centre is easily accessible by public transport, via the tram network, and it also has direct access to multistorey car parks. The shopping centre brings together several renowned brands, such as Galeries Lafayette, Starbucks, Décathlon and Fnac.
Outdoor Diffusion added: "We are very proud to open the very first The North Face brand in Luxembourg and thus continue to develop our network of stores between France and the Benelux. The Royal-Hamilius is a real place to live. It enjoys a privileged location in terms of visibility, prestige, positioning and infrastructure. The Royal-Hamilius immediately appeared to us as the ideal place to set up the first The North Face store in the country."
The North Face is now present all over the world. The brand offers clothing for men, women and children, but also accessories, shoes and all the equipment necessary for outdoor exploration.