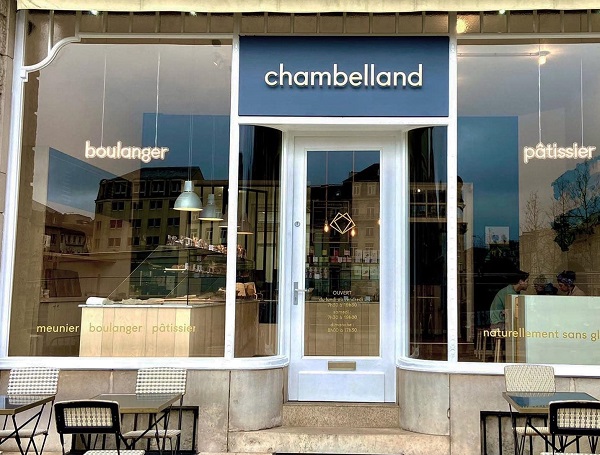 Chambelland Luxembourg;
In February 2023, French gluten-free bakery Chambelland opened its first Luxembourg shop (and the brand's sixth overall) in Place de Paris.
The bakery offers naturally gluten-free breads and pastries, made using rice flour, with respect for baking traditions and a fully controlled production line (i.e. the rice is crushed in a mill free of all other cereals). According to Chambelland, making gluten-free bread requires certain skills and know-how and the brand's bakers use special (secret) techniques, avoiding any chemical additives. The brand's raw material - a whole, unbroken organic Japonica rice - is grown directly by the Moulin Chambelland in the Po Valley in Lombardy (France).
Nathaniel Doboin and Thomas Teffri-Chambelland created the artisan bakery and flour producer Chambelland in 2014. Chambelland now has five shops in France and Belgium - and now a sixth, in Luxembourg, as the brand expands. The new Chambelland Luxembourg bakery is located at 2 Rue de la Grève, 1643 Luxembourg and is open Monday to Saturday from 07:30 to 19:30 and on Sundays from 08:00 to 17:30.
Chronicle.lu recently had the opportunity to speak with Arnaud Rasquinet, Managing Partner of Chambelland Benelux (he and his partners own the Benelux franchise) and a former artisan at Le Pain Quotidien, to learn more about the Luxembourg bakery opening.
Chronicle.lu: What inspired the decision to expand to Luxembourg and to choose Luxembourg City (Place de Paris) as the location of Chambelland's sixth bakery? Had you noticed a gap in the market and/or demand from Luxembourg customers?
Arnaud Rasquinet: Orginally, I bought the "Benelux" concept, so Luxembourg was already to be opened. We started to open three bakeries in Belgium (Brussels, Waterloo and Ghent) and focused on Luxembourg after.
Why the address? It's an up-and-coming area, which is becoming nice again. We're along the tram (between the station and the city), a good compromise for the location.
We have a lot of Luxembourgish customers who used to come to Brussels to shop and were looking forward to our opening. And the Luxembourg coeliac association was also looking forward to our opening.
Chronicle.lu: How big is the team at Chambelland Luxembourg and are there plans to hire additional (local) staff? For example, you mentioned recently on social media that you were looking for students to strengthen the team - might there also be the possibility of local partnerships, e.g. with the École d'Hôtellerie et de Tourisme du Luxembourg, offering students traineeships?
Arnaud Rasquinet: Indeed, we were still looking for students and even a manager. Normally, to run the bakery we need four to five people, but soon we should have the whole team. For the moment, I'm there myself, to coordinate the opening and especially to train the new team. It's a "special" training, because we don't sell a simple bread or cake, some people come and are very intolerant, even allergic, and we have to give them the right answers and advice.
We are of course interested in local partnerships like the hotel/tourism school.
Chronicle.lu: Will you use local/regional products? Are most of the ingredients imported from existing facilities in France, e.g. Moulin Chambelland?
Arnaud Rasquinet: We have our own flour and mill and therefore we use all our own flour as a base. Our suppliers of various products (seeds, eggs, milk etc) are French. They have been chosen and selected over the years based on their quality. However, for all "auxiliary" products (jam, juice, caramel/chocolate, etc.), we want to sell local products.
Chronicle.lu: What more can you tell us about the "special techniques" used in making gluten-free bread?
Arnaud Rasquinet: Our entire process is confidential, it's a know-how that we can't reveal. The creator himself took no less than nine years to put the recipes together. Some recipes can be found on our website or in our books.
Chronicle.lu: What inspired the decision not to include croissants on the menu but rather to offer a range of different breads and other pastries? What have been some of your most popular products in existing shops? And will there be any Luxembourg-specific novelties at the new shop?
Arnaud Rasquinet: To make gluten-free puff pastry (for croissants) is very complicated, so we decided to offer a gourmet alternative: sugar loaf (choco, plain or vanilla/raisin). These are our own products that work too well. Croissant is a classic everywhere - we are precisely not classic.
Our bestsellers: bread with five seeds (all our breads, focaccia and sugar loafs are vegan), olive and pissaladière focaccia (pissaladière is a focaccia with olives, onion and mustard), sugar loaf, lemon pie (delicious), pear tart, classic cookie (also available in a vegan version).
We'll off course try to adapt our Chambelland market to Luxembourgish traditions but in a second phase. Now we focus on openness.