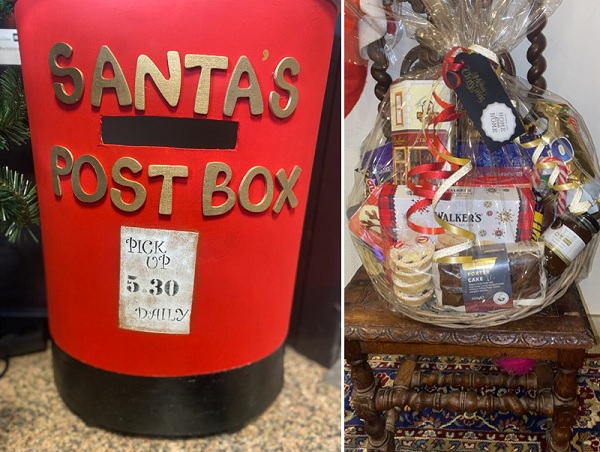 The Home from Home "expat shop" in Strassen is gearing up for the Christmas holiday period, with a special Santa Post Box installed just inside the door, allowing children to post their letters to Santa right up to Thursday 22 December.
The shop has been stocking up on Christmas produce, with Christmas crackers, Christmas puddings, mince pies and many more traditional Christmas produce all available. Some frozen turkeys and hams are available in the shop's freezer cabinets, with around 100 specially-ordered fresh ones scheduled to arrive on Thursday 22 December. They also have Selection Packs and gift bags, and have been making up hampers to order.
John Heffernan, one of the owners, talked with Chronicle.lu and confirmed that this Christmas period has been their busiest since the shop opened five years ago, in late 2017. Following Brexit which forced them to change their supply chain to get most of their fresh produce now from Ireland instead of England, John explained that it has been running smoothly for the past year, with reliable suppliers and transport ensuring that they have earned the trust of their customers, the majority of whom shop there regularly.
John stated "The run-up to Christmas has seen the shop busier than ever, with huge demand for traditional Christmas produce. And it has confirmed our intention to look for larger premises going forward".
Home from Home (148 Route d'Arlon, Strassen) has confirmed its extended Opening Hours this week-end, as follows:
- Fri 16 December: 09:30 - 19:00
- Sat 17 December: 09:00 - 18:00
- Sun 18 December: 10:00 - 16:00