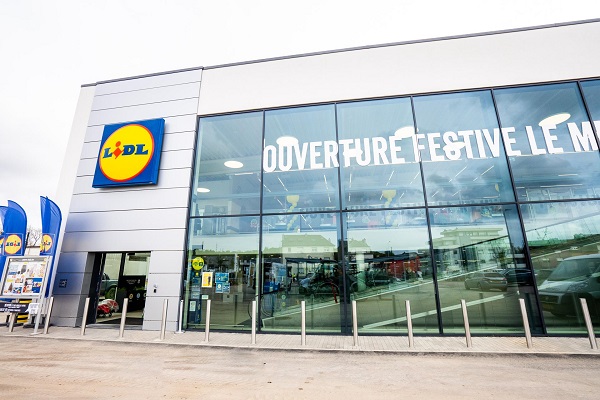 Lidl Differdange store; Credit: Lidl
The Lidl supermarket chain has announced that it is continuing its expansion in Luxembourg with the opening of two new stores.
Lidl will open a new store in Dudelange on Wednesday 7 December 2022 and another in Windhof one week later, on Wednesday 14 December 2022.
These two projects are expected to generate a positive impact on employment: the brand has recruited 50 new employees, to reach a total of nearly 430 employees across thirteen stores before the end of this year.
The day after Saint Nicholas Day, Dudelange will host Lidl's first mixed project in the Grand Duchy. Located on Route de Luxembourg, this twelfth Lidl store, which employs 25 new employees, has a commercial area of 1,249m² on the ground floor and a car park with 80 outdoor spaces equipped with two charging stations for electric cars. This mixed project also includes professional spaces upstairs: a first part for internal use and a second intended for rental.
A week later, the new Windhof store will open its doors on Rue d'Arlon. The new store has a commercial area of 1,415m² and features 108 parking spaces, including two charging stations for electric vehicles and a bicycle terminal. Nearly 450 solar panels have been installed to guarantee a significant production of renewable energy. Here too, 25 new employees were recruited.
Julien Wathieu, spokesperson for Lidl in Luxembourg, welcomed this announcement: "For more than 20 years, we have continued our growth, which is reflected in the opening of new stores and the renovation of existing stores. We are very happy to be able to have two additional stores in the Grand Duchy before the end of this year. In addition to providing our customers with high quality products at the lowest price, we provide them with a pleasant shopping environment and a unique experience. This fits perfectly into our sustainable and responsible expansion strategy".
According to Lidl, the brand has always established itself as a pioneer against the high cost of living; this philosophy has been applied responsibly, with great care for respect for communities, biodiversity and ethical consumption.
Consequently, in collaboration with local beekeeper Hugo Zeler, Lidl had already installed six hives near its stores in Differdange, Huldange and Pommerloch, hosting some 300,000 bees. There are now plans to install four additional hives at the new stores in Dudelange and Windhof. "This project is a real success in terms of protecting insects and their biotope. In this configuration, bees are harmless to customers and employees. In addition, they maintain and beautify the green spaces around our stores, and produce delicious local and urban honey", continued Julien Wathieu. "As soon as the fine days of April arrive, we will install two new hives in Windhof and two others in Dudelange. Nearly 500,000 bees will then be an integral part of our team".
Moreover, the supermarket chain is continually expanding its assortment of Fairtrade products to help its customers to consume more ethically and sustainably. Thanks in particular to its partnership with Fairtrade Luxembourg, Lidl has already carried out several initiatives. To recall these values, Lidl will install the Fairtrade flame, a symbol of ethical and sustainable commitment, at the entrance of the Dudelange and Windhof stores during their respective inaugurations.
Also during these inaugurations, Lidl will organise a range of activities and a food truck (with Fairtrade products) will be set up in the supermarkets' car parks.
On Saint Nicholas Day, Lidl also presented a check for €50,000 to the social grocery stores of Caritas and the Luxembourg Red Cross in order to support their projects aimed at combating poverty, strengthen solidarity and social ties and promoting balanced nutrition while fighting against food waste. This sum was collected this year as part of the "Bon Appétit Zéro Gaspi" initiative, which aims to limit food waste - it should enable Lidl to reduce food waste by 50% by 2025, compared to 2015.