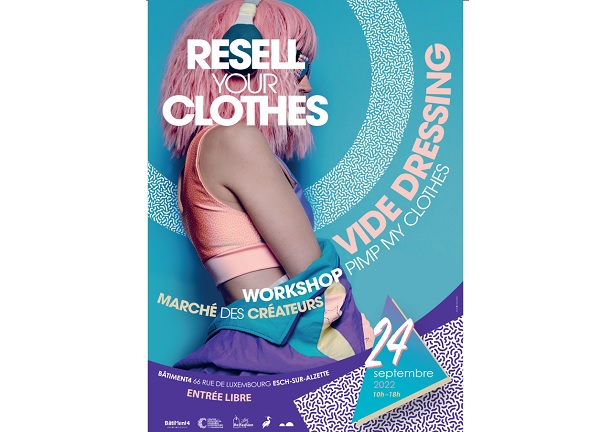 The "Resell Your Clothes" second-hand clothes sale will move to Bâtiment 4 in Esch-sur-Alzette for its third edition, which is taking place on Saturday 24 September 2022 from 10:00 to 18:00.
Resell Your Clothes is an event open to all, organised by a group of organisations and individuals. This edition will bring together more than 40 exhibitors / vendors, a designer market (clothing, shoes, accessories, etc.) with BENU Village, Rethink Your Clothes, the Bunker and Urban Vintage and a "Pimp my clothes" stand to customise one's clothes for free. A photobooth, a tote bag embroidery workshop with Reiny Reizzy (13:30 to 14:30) and a food truck (Délice Végétal) serving fresh vegan products, will also be present.
This event is organised in collaboration with BENU Village Esch asbl, Rethink Your Clothes, Future - Esch 2022, European Capital of Culture and the Bunker.