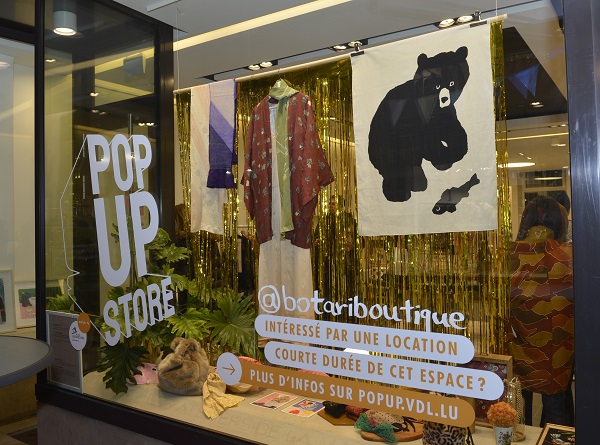 Credit: Photothèque - VdL / Charles Soubry
The City of Luxembourg (Ville de Luxembourg - VdL) has launched a call for applications as part of its pop-up stores project.
Applications are now being accepting for the temporary rental of premises located at 25 Rue des Capucins in Luxembourg-Ville from February 2022.
From now until 12 December 2021 inclusive, interested creators, artists, traders or startups can apply using the form available on the VdL website: popup.vdl.lu. The applications will be analysed before the Christmas holidays so that the new pop-up store can open its doors in February 2021.
The premises, located in the pedestrian zone in the heart of the capital, have a sales area of ​​120 m2. Proposals in the area of ​​clothing, accessories and jewellery, home equipment, services and leisure, care and beauty, art, fashion and photography or dry packaged food are authorised.
The minimum rental period is one month and the maximum period is six months; an extension of up to three months is possible depending on the availability of the space. The amount of the monthly rent ranges between €650 and €2,250, depending on the specific situation of the entrepreneur or merchant. A general flat rate for charges is added to the rent.
Through its pop-up stores project, the City of Luxembourg aims to support commerce, promote entrepreneurship and contribute to the creation of a rich and diversified commercial offer in the city centre. The concept of pop-up stores serves as a springboard for creators, traders or startups who can test a new product, service or concept before settling permanently in a commercial premises.
Owners of temporarily unoccupied commercial spaces wishing to join the project are invited to contact the economic and commercial development unit of the City of Luxembourg via tel.: 4796-5000 (Monday to Friday, 09:00 to 12:00 and 14:00 to 17:00) and via email: dec@vdl.lu.
List of current and upcoming pop-up stores:
38 Rue Philippe II: Byoo Store (eco-responsible and sustainable fashion) until 31 December 2021;
38 Rue Philippe II: Made by Ghigi (interior decoration objects and fashion accessories) from 3 January to 15 April 2022;
40 Rue Philippe II: Nolo (ceramic products from Portugal) until 15 April 2022;
40 Grand-Rue: Tofino (chocolate products) until 30 November 2021;
40 Grand-Rue: Maison Bastien (luxury ready-to-wear, haute couture fashion) from 1 to 31 December 2021;
40 Grand-Rue: Taebak sarl (fashion accessories) from 3 to 31 January 2022;
30 Rue des Capucins: Julie Conrad Design Studio (workshop for the creation and sale of furniture, wall decorations, etc.) from 9 December 2021 to 31 August 2022;
70 Grand Rue: COVID-19 antigen testing certification centre.