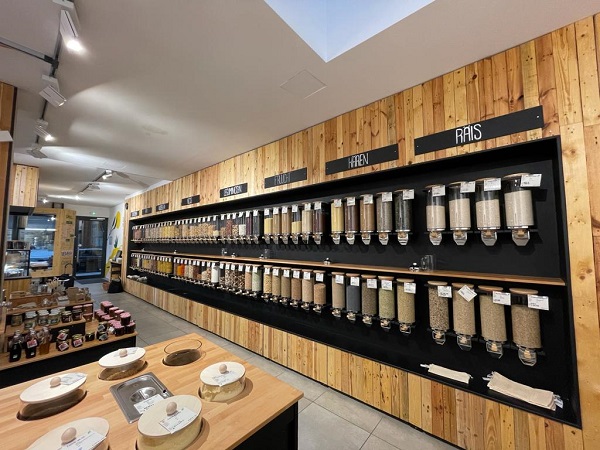 Dudelange store; Credit: OUNI
Luxembourg's first packaging-free organic grocery store, OUNI, has appealed for support as it struggles to survive the COVID-19 pandemic.
Whilst the cooperative has so far resisted headwinds, its future is now in danger.
According to OUNI, the concept of zero waste, which has driven the cooperative's activity since its creation five years ago, reflects a slow but unstoppable evolution in the behaviour of consumers who are increasingly eager to make eco-responsible purchases as close as possible to their homes.
However, the past two years have undermined the efforts made by everyone within the cooperative.
"The context was difficult, because barely three days after its opening, we chose to close the Dudelange store because of the restriction measures in the context of the COVID epidemic", recalled Julien Gannard, current president of the OUNI Board of Directors. "In fact, at that time, even though we were a so-called 'essential' store, being without packaging did not guarantee the health security required by the authorities. We had to reorganise ourselves to be able to ensure, with the means at hand, take-out purchases and a home delivery service to support our members and our customers".
This situation came at a high cost for the cooperative, which was counting on the first sales of its Dudelange store to monetise the investments required to open this second branch.
In the most difficult times, OUNI benefitted from the support of the City of Dudelange, which, for example, did not ask for rent. However, since its reopening, the Dudelange grocery store has been slow to find its customers, particularly as a result of the shift towards online shopping in the context of the pandemic.
For its part, the original shop on Rue Glesener in Luxembourg City has seen customer numbers dwindle due to remote working and the bad reputation the Luxembourg-Gare district has earned recently over safety concerns.
To face this adversity, OUNI has appealed to its cooperators, as well as all interested individuals, to support its mission which, beyond zero-packaging sales, consists of raising awareness, educating and contributing to sustainable development and to a lifestyle that is more respectful of human values ​​and of the planet.
Concretely, shares can be purchased at €100 per unit. Shareholder loans (from €1,000) are also welcome (email cooperative@ouni.lu for more information).
The launch of a crowdfunding campaign is planned in the coming days.
Finally, OUNI invited everyone to simply come by and do their shopping at its packaging-free organic grocery stores.