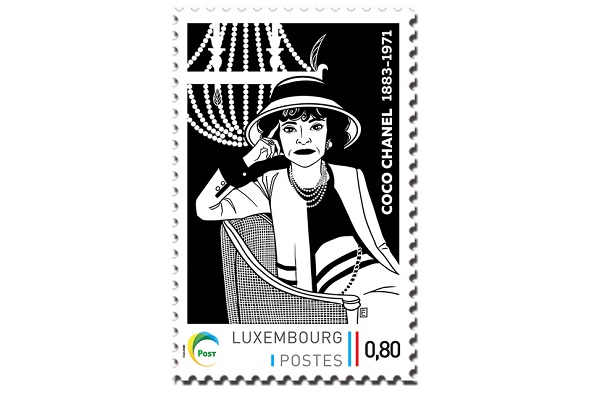 Credit: POST Luxembourg
As part of the Salon Philatélique d'Automne (Autumn stamp fair) in Paris, POST Luxembourg has issued a stamp commemorating the 50th anniversary of the death of Coco Chanel.
This series of special philatelic memorabilia features a stamp bearing an effigy of the French fashion designer and businesswoman, as well as a stamped illustrated post card and a postmark.
Organised from 4 to 7 November 2021 by the CNEP, the French chamber of merchants and experts in philately, in Paris, the Salon Philatélique d'Automne is an unmissable annual meeting for all professionals and enthusiasts of philately. This year, the fair will celebrate its 75th anniversary with the issuance of various special stamps.
POST Luxembourg takes part annually in this prestigious event and traditionally issues a specific "MengPost"-style stamp, relevant to France, on this occasion. This year's special stamp bears the effigy of Coco Chanel, in honour of the 50th anniversary of her death. Stamps dedicated to previous editions of the fair featured aviator Jacqueline Auriol, as well as actors Fernandel (Fernand Contandin) and Louis de Funès.
Created by artist Églantine Denis, the motif of the "Coco Chanel" stamp by POST Luxembourg represents a discreet black and white portrait of this French fashion icon. After ten years working in a publishing house, Églantine Denis specialised in book illustration as a freelance graphic designer.
The "Coco Chanel" philatelic souvenir series is available from 4 November 2021 in the POST Philately online store (www.postphilately.lu) and at the POST Philatelic desk in Cloche d'Or (13 Rue Robert Stümper).