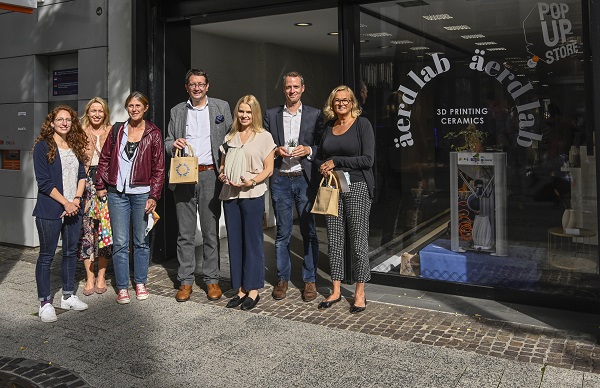 Äerd Lab; Credit: VdL Photothèque / Charles Soubry
The City of Luxembourg (Ville de Luxembourg) has announced the opening of two new pop-up stores in Luxembourg-ville: Äerd Lab and House of Henderson.
On Tuesday 14 Setember 2021, the City of Luxembourg inaugurated two pop-up stores, located on Grand-Rue, in the presence of the store managers.
Located at 40 Grand-Rue until 15 October 2021, Äerd Lab ("earth lab") offers visitors 3D ceramic design objects made from organic and natural materials and created on site using a 3D printer.
House of Henderson offers a range of lifestyle and homeware products. From chairs to decorative and household items, customers will find unique, handmade pieces at this store, which will be present at 70 Grand-Rue until 30 September 2021.
As part of the pop-up stores project, aimed at promoting entrepreneurship and contributing to the creation of a diversified commercial offer in the city centre, the City of Luxembourg is launching a new appeal to the owners of temporarily unoccupied stores, as well as to creators, artists, traders or startups interested in renting a retail space. For further information, visit popup.vdl.lu or contact the economic and commercial development department of the City of Luxembourg via tel.: 479-65000 (Monday to Friday, from 09:00 to 12:00 and from 14:00 to 17:00) or via email: dec@vdl.lu.