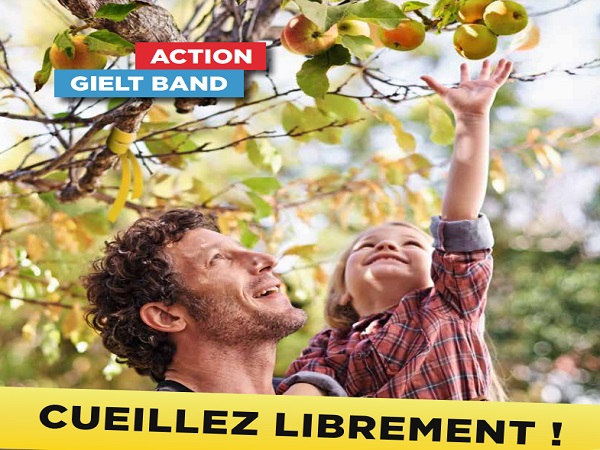 Luxembourg's Ministry of Agriculture, Viticulture and Rural Development has announced the upcoming launch of a new campaign aimed at reducing food waste.
A fruit tree can produce up to 500 kilograms of fruit. However, each year a significant amount of fruit rot on and under fruit trees because they are not harvested.
To avoid this food waste, the Agriculture Ministry and Syvicol, the association of Luxembourg cities and municipalities, are joining forces to jointly launch the "Gielt Band" (yellow ribbon) initiative. The concept is simple: if a yellow ribbon is tied on a fruit tree, members of the public can (and are encouraged to) freely pick the fruit for their own personal use.
As harvesting fruit without the owner's authorisation is generally prohibited, the Ministry and Syvicol are calling on municipalities and inter-municipal unions to participate in this project by marking municipal fruit trees with a yellow tape to indicate that picking for personal use is authorised.
With this national campaign, which will begin in September with the apple harvest, the Ministry and Syvicol are trying to send a clear message against food waste.
Initially, this initiative targets fruit trees located on municipal land, although individuals wishing to join the campaign are also welcome.
On its platform www.antigaspi.lu, the Agriculture Ministry will provide a geographical map indicating the municipalities participating in this campaign. The platform will also provide a behaviour charter to ensure that fruit picking is done with respect for nature.
This initiative is also part of the anti-waste solidarity pact (Zesumme géint d'Liewensmëttelverschwendung) which was signed by 92 of the 102 municipalities in Luxembourg.
In addition, the "Gielt Band" initiative will be placed at the centre of Luxembourg's activities for International Day of Awareness of Food Loss and Waste on 29 September.
Luxembourg's Minister of Agriculture, Viticulture and Rural Development, Romain Schneider, and the President of Syvicol, Emile Eicher, highlighted in this context that with this new initiative "we are now contributing to considerably enhance local fruit by actively engaging in the fight against food waste".