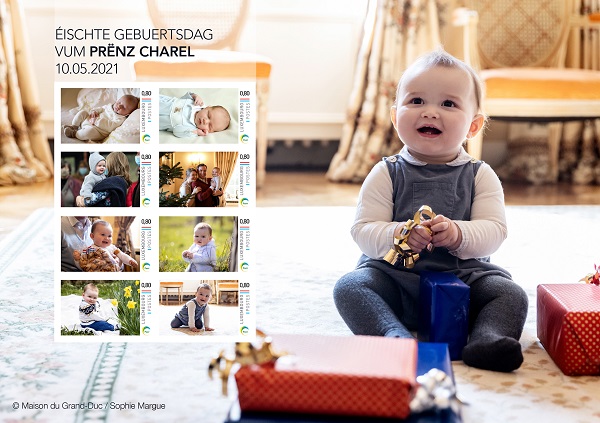 Credit: Maison du Grand Duc - Sophie Margue / POST Luxembourg
POST Luxembourg has announced the issuance of an exclusive series of stamps to mark the first birthday of His Royal Highness Prince Charles.
On the occasion of Prince Charles' first birthday on 10 May 2021, POST Luxembourg is selling a sheet of eight stamps, an individual stamp and an illustrated postcard with a stamp. A special stamp completes this series of philatelic souvenirs.
Taken by photographers Sophie Margue and Céline Maia, the photographs on these nine stamps retrace the first twelve months of Prince Charles' life. The prince was born on 10 May 2020 at Maternité Grande-Duchesse Charlotte in Luxembourg. He is the first child of Their Royal Highnesses the Hereditary Grand Duke and the Hereditary Grand Duchess, making him second in the line of succession to the throne of Luxembourg after his father.
These exclusive stamps will be on sale on Monday 10 May 2021 at Café Wëllem (1 Rue de la Reine) in Luxembourg-Ville from 10:00 to 17:00, as well as at the Guichet Philatélique (POST's philatelic counter; 13 Rue Robert Stümper) in Luxembourg-Cloche d'Or from 09:00 to 12:00 and 13:00 to 17:00, in line with the sanitary measures in place.
The stamps can also be purchased online via the POST Philately website: www.postphilately.lu.