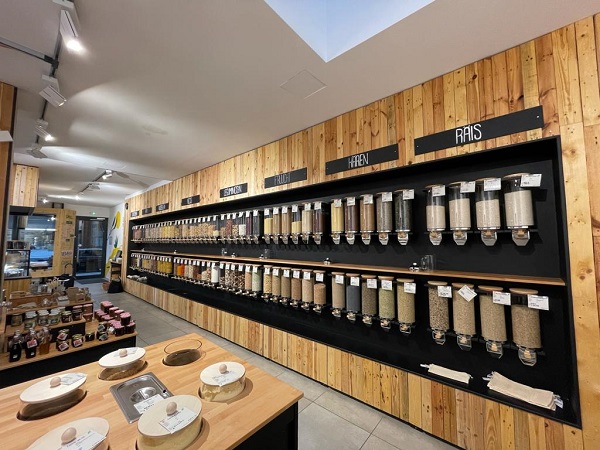 Dudelange store; Credit: OUNI
The OUNI cooperative has announced that it is celebrating the first anniversary of its second packaging-free organic grocery store, located in Dudelange in southern Luxembourg, on Sunday.
On 14 March 2020, OUNI, the first organic grocery store without packaging in Luxembourg, opened its second store in Dudelange. One day later, the Luxembourg government announced nationwide lockdown restrictions.
On the occasion of the first anniversary of its Dudelange store, OUNI took the opportunity to look back on a year unlike any other. The opening of this second store in the south of the country was a milestone for the OUNI cooperative, less than three and a half years after the inauguration of the first store in the Luxembourg-Gare district. It showed a growing interest among consumers in the concepts of packaging-free and zero waste.
"The context was not easy, because three days after its opening, we chose to close the store due to the restrictive measures in the context of the COVID epidemic," recalled Joshua Streitz, Manager of OUNI. "We had to reorganise ourselves to be able to guarantee, with the means at hand, take-out purchases and a home delivery service to support our members and our customers".
In these challenging times, OUNI was able to benefit from the support of the City of Dudelange, which did not charge its tenants (including OUNI) rent. Since then, the 180 m2 store has reopened, welcomed more new customers and contributed to the development and influence of the cooperative in the country: in the space of a year, its capital has increased by more than 7%.
Just like in the historic shop on Rue Glesener, the Dudelange store offers around a thousand references of food, hygiene and maintenance products needed for daily life, sold either in bulk or in reusable or returnable packaging (glass bottles and jars).
"The friendliness of the teams on site and the aesthetics of the space that welcomes customers allow consumers to have a great experience while being guaranteed to do something for the environment and the planet", noted Isabel Ferreira, President of the Board of Directors of OUNI. "We are particularly proud and happy to be part of a certain new lifestyle that is more respectful of human values. We intend to continue our momentum and continue to offer a real alternative to traditional consumption patterns, in a place that also aims to be a place of life and meetings, which promotes exchanges".
To mark the occasion of this anniversary, OUNI is organising mini-contests on social networks (Facebook, Instagram and LinkedIn) and occasional in-store operations with many prizes up for grabs.