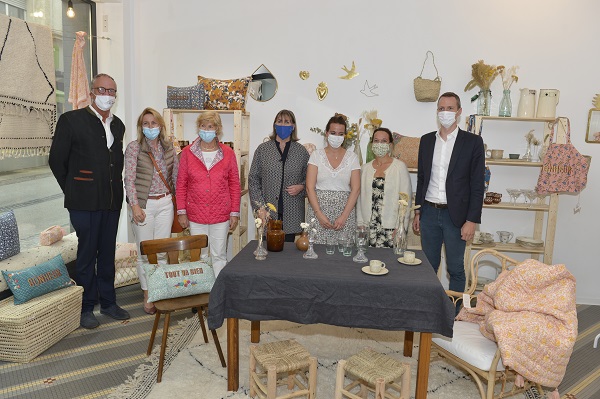 La Manufacture Bohème; Credit: VdL Photothèque / Charles Soubry
Three pop-up stores yesterday opened their doors in Luxembourg-ville: La Manufacture Bohème, Sense of Japan and Asport
On Wednesday 23 September 2020, Lydie Polfer, Mayor of the City of Luxembourg, and Serge Wilmes, first alderman and head of commerce in the City, inaugurated the three pop-up stores located Rue Philippe II and Rue Chimay, in the presence of shop managers. Following the launch of a call for applications in mid-June and the evaluation of some 40 applications, the City selected La Manufacture Bohème (located on Rue Chimay), Sense of Japan and Asport (both on Rue Philippe II) for this pop-up stores experience.
La Manufacture Bohème is a small nomadic boutique offering customers a collection of home decoration and objects found and unearthed for the family. All the objects to create a bohemian space are available, from organic cotton Berber rugs, vintage porcelain and jewellery to small furniture and bed and household linen. This pop-up store will remain in place until the end of December 2020.
Sense of Japan consists of a space combining a boutique offering a selection of Japanese sakes and whiskeys and a tailor-made travel agency in Japan. To introduce customers to Japanese tastes, Sense of Japan will regularly organise tasting evenings.
Last but not least, Asport presents in a friendly atmosphere trendy and modern collections of clothing, shoes and sports and leisure accessories for women, men and children.
The two pop-up shops on Rue Philippe II will remain in place until February 2021.
As part of the pop-up stores project, aimed at promoting entrepreneurship and contributing to the creation of a diversified commercial offer in the city centre, the City of Luxembourg will launch the next call for applications in January 2021. Creators, artists, traders or start-ups interested in renting one of the two sales and exhibition spaces will be able to submit their application via the form available online at popup.vdl.lu.
Proposals must be in the field of ​​clothing, accessories and jewellery, house equipment, services and leisure, care and beauty, art, fashion and photography or packaged dried foods. The premises have an area of ​​approximately 45 m2. The minimum rental period is one month and the maximum duration is six months; an extension of up to three months is possible depending on the availability of the space. Monthly rent (excluding bills) varies between €650 and €2,250 depending on the specific situation of the entrepreneur or merchant. Rent will vary for large national or international subsidiaries that already have several establishments, but wish to set up in a pop-up store for the launch of a new product.