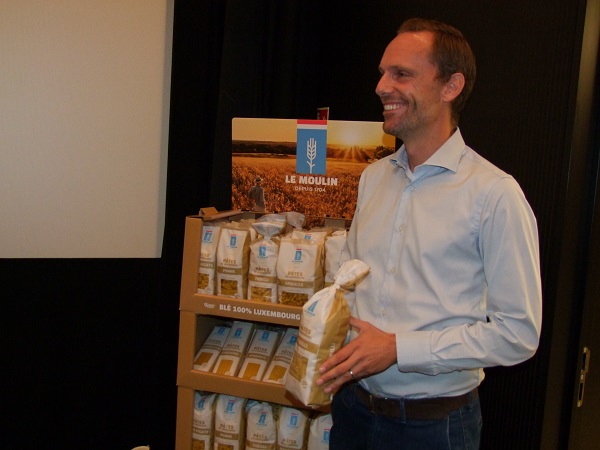 Jean Muller, Director of Moulins de Kleinbettingen;
On Monday 14 September 2020, the Moulins de Kleinbettingen held a press conference at the Kinoler cinema in nearby Kahler to announce the launch of a new range of flour as well as a new range of pasta, both under the new Le Moulin brand.
Jean Muller, Director of the mill, spoke in French and Luxembourgish and explained that the family-run mill has been operating since 1704, initially with mills in Berchem, then Dommeldange and subsequently in Kleinbettingen, close to Steinfort. He confirmed that he is the 11th generation of his family that has operated the mill.
He focussed the presentation on quality aspects, noting that the family-run mill has been a pioneer of sustainable agriculture in Luxembourg and has the quality label "Produit du Terroir" (created in 2007 by the Muller family with the chambre d'agriculture, which significantly reduced Luxembourg's dependency on imported wheat from Germany, etc.) as well as "Made in Luxembourg".
He emphasised that, today, the Moulins de Kleinbettingen (Le Moulin) continues to work alongside local farmers to cultivate wheat while respecting the soil, biodiversity and Luxembourgish agriculture.
The first new range presented is a Pasta range (Rigate, Macaroni, Penne, Fusilli, Spaghetti, Spaghettini, Tagliatelle and Spatzle) concerning which the mill provides the 100% Luxembourgish flour and which is then made into (Luxembourgish) pasta by two companies operating in the Greater Region.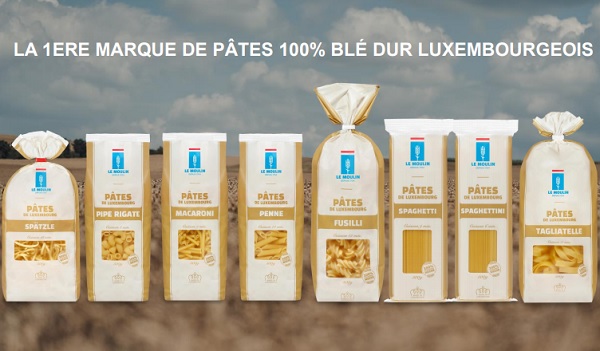 For the Moulins de Kleinbettingen, which has been a semolina maker for 50 years and working alongside Luxembourg farmers on a daily basis, it was obvious that local durum wheat made it possible to obtain high quality semolina and therefore tasty pasta. The opportunity arose to offer consumers quality, local products with full transparency on the origin of the raw material, leading to the launch of 100% Luxembourgish durum wheat pasta.
The second new range involves nine different flours, of which three are labelled organic too.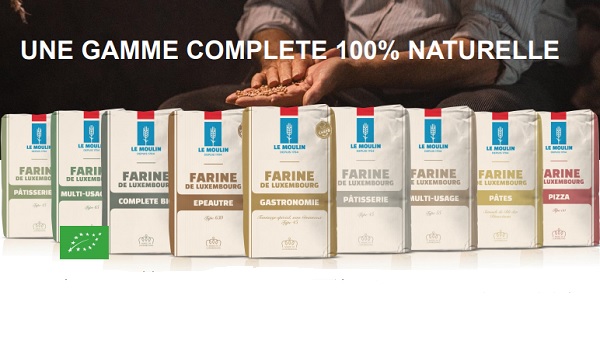 Jean Muller confirmed that sales of the two ranges will initially be restricted to Luxembourg (restaurants, supermarkets, etc.) before considering exports, possibly starting with the nearby Province de Luxembourg in Belgium.
The packaging has also been completely redesigned, and uses 100% recyclable materials. Also, LE MOULIN flours are 100% natural and contain no additives or preservatives.
During the COVID-19 pandemic lockdown, while sales to restaurants reduced, consumer sales (supermarkets, etc.) made up for the shortfall, ensuring that the company has not really been affected as a result of the pandemic.