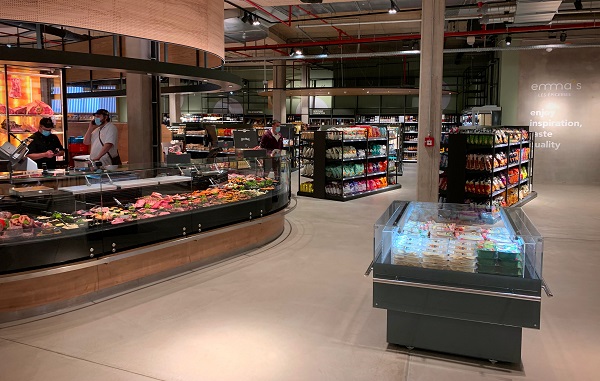 emma's Steinfort; Credit: Pall Center Group
Pall Center Group has announced the opening of a new grocery store in Luxembourg: emma's opened its doors yesterday in Steinfort.
Located on the main road between Arlon and Luxembourg and developed by Pall Center Group, this pilot store reflects the group's adaptation to the dietary needs and shopping habits of modern life.
Over a sales area of 1,350 m2, emma's is designed in the spirit of a contemporary grocery store and offers quality products sourced from a network of local partners. Good taste, local know-how, short circuits and above all proximity services for the client are key, as explained by Mathieu Rigot, manager of emma's Steinfort: "The name emma's encapsulates this choice: we decided to use a common and likeable name to illustrate this concept of trust, which we want to establish between the store and its clientele".
emma's also has a café with a seating capacity of 60. Its focus lies on morning or afternoon coffee as well as ready-to-eat meals during the lunch break.
In addition, the store has an outdoor car park with fourteen spaces and an indoor car park with 72 spaces.
Launched as a pilot store employing some 20 people in Steinfort, emma's is set to grow with additional stores expected to open in the coming years.
Launched on Wednesday 8 July 2020, emma's Steinfort will be open from Mondays to Thursdays and on Saturdays from 08:00 to 20:00, Fridays from 08:00 to 21:00 and Sundays from 08.30 to 13:00.