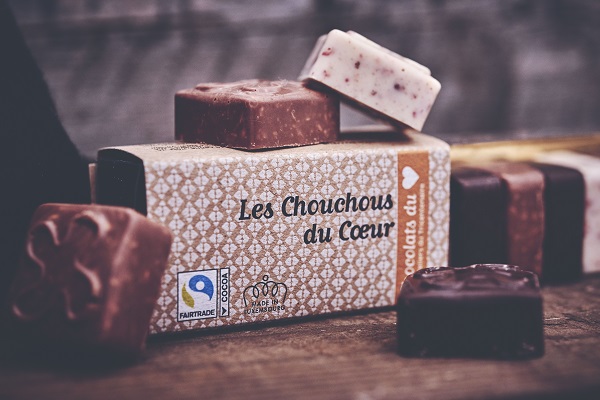 Credit: Cactus
Luxembourg supermarket chain Cactus today announced that it is expanding its range of solidarity products with a new 100% "responsible" product: "Chouchous du Coeur".
Considered to be a triply responsible product, "Chouchous du Coeur" are an assortment of small chocolates made from Fairtrade cocoa, coming from the "Tricentenaire" sheltered workshop in Bissen and providing financial support for the "Stand Speak Rise Up!" initiative.
Launched on the occasion of Valentine's Day, these chocolates are produced in Bissen in the Tricentenaire chocolate workshop, where people with disabilities (with a view to inclusion through work) process exclusively Fairtrade certified cocoa. A doubly social vocation which is further accentuated with the "Chouchous du Cœur", since Cactus has undertaken to pay €0.5 to the Fondation du Grand-Duc et de la Grande-Duchesse for the benefit of the "Stand Speak Rise Up" initiative, the objective of which is to denounce sexual violence as a weapon of war throughout the world.
These small "Made in Luxembourg" delicacies are now available exclusively in Cactus stores.