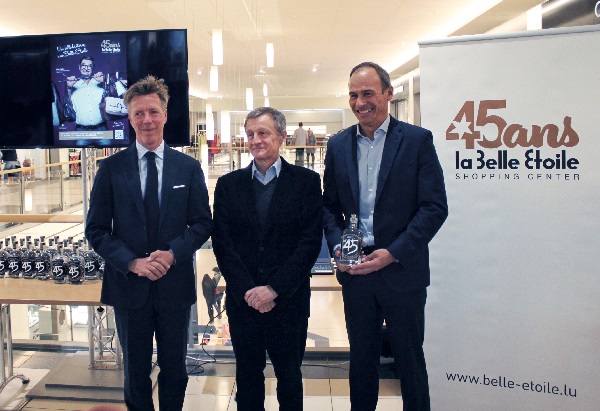 L-R: Laurent Schonckert, Managing Director of Cactus group, Max Leesch, Chairman and Chief Executive of Cactus; Manu Konsbruck, Director of Belle Etoile; Credit: Cactus
On the occasion of its 45th anniversary, the Belle Etoile shopping centre has organised a jam-packed programme and various sales promotions.
These celebrations will be taking place at the Belle Etoile from Thursday 17 October to Sunday 20 October 2019.
Programme
Thursday 17 October
14:00-18:00: Children's party, featuring a cupcake decoration workshop, balloon sculpting, lucky wheel, Bricks4Kidz DIY workshop, face painting, virtual reality and Cactus mascot Yuppi who will be accompanied by his friends, the Super Heroes.
19:30: RTL "Deck-Käpp" will celebrate its 25th anniversary as well as the 45th anniversary of the Belle Etoile at the C-Inn. Admission is free. Tel.: 313-040.
Friday 18 October
17:00-21:00: Afterwork with live music and N° 45 Gin Bar, featuring a limited edition of the gin (450 in total). Meeting in front of C&A.
19:00-01:00: Oktoberfest at C-Inn. The group "Sonnwend" and Hoffi-Zambezi will host the evening. As well as a buffet (€16.50 per person), the evening will feature a competition for the most beautiful Dirndl and Lederhose at 22:00. By reservation only via tel.: 313-040.
Saturday 19 October
16:00: Free slice of giant anniversary cake and a glass of cremant in the new gallery of the Belle Etoile.
Sunday 20 October
15:00: "My cupcake is worth a star" awards ceremony in the new gallery.
In addition, the Belle Etoile will be organising a competition to win 200 invitations (each for two people) for its "Red Dinner", taking place in the gallery on the evening of Tuesday 26 November 2019. Competition entries will be distributed in all shops in the gallery during the four days of celebration.
Finally, the Belle Etoile has presented the "A beautiful story, a beautiful star" campaign, which promotes the centre's eleven "faces". These represent diversity, proximity and sustainability, among others, and can be viewed from today on www.belle-etoile.lu.