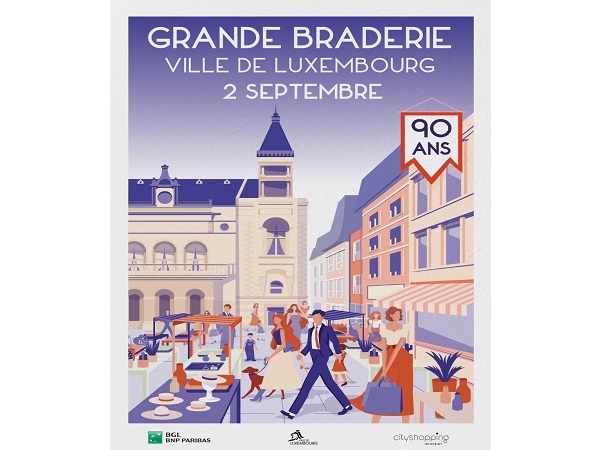 Credit: Ville de Luxembourg
Luxembourg City's annual "Grande Braderie" is returning next Monday 2 September 2019; this year will mark the 90th edition of this popular discount shopping day on what is known locally as "Kiermessmeindeg".
The Braderie is an opportunity for traders in the old city, in and around the pedestrian zone, and around Luxembourg-Gare area, to set up stalls on the footpaths and streets outside their shops, cafés and restaurants, with many offering special discounts on goods. In total, there will be some 400 stands.
On Monday morning, the Braderie will have two official inaugurations, at 09:00 in Place de Paris and at 10:30 in Place d'Armes, where the organisers will cut a birthday cake to celebrate the event's 90th anniversary.
As traffic will be barred from these areas throughout the day to allow room for pedestrians, diversions will be put in place for motorists and other road users. For full details, including public transport changes and car parking facilities, see Mobilitéitszentral at www.mobiliteit.lu or braderie.vdl.lu, or tel.: 4796-2975 or 2465-2465.
Details on free public transport for Sunday Shopping, taking place the day before (Sunday 1 September) the Braderie, are also available at busgratuits.vdl.lu.