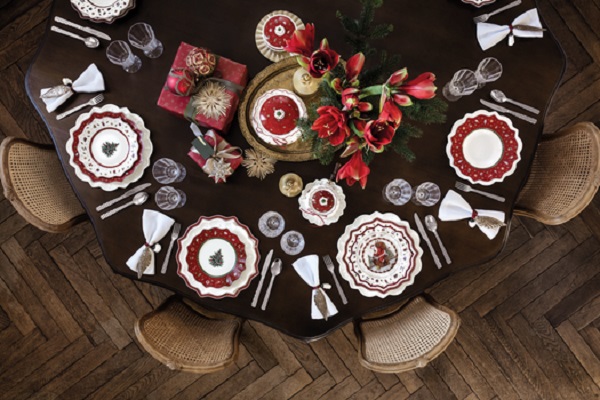 Toy Delight Royal Classic set; Credit: Villeroy & Boch
Ceramics manufacturer Villeroy & Boch has presented its range of Christmas tableware sets: the Toy's Delight and Toy's Delight Royal Classic collections.
The Villeroy & Boch Toy's Delight series takes inspiration from traditional Christmas colours, featuring premium porcelain crockery decorated with retro motifs in red, green and white. Tealight holders and ornaments, this year taking the form of a miniature Christmas coffee set, complete the decor.
For its part, the Toy's Delight Royal Classic series, discreet white-on-white version of Toy's Delight, evokes images of a white Christmas. Its embossed pattern of ornaments and dotted Christmas motifs gives this premium porcelain crockery a unique touch. After its successful launch last year, the series has been expanded to include new products such as various bowls, a display stand and several coffee-related accessories, from a coffee maker to a sugar bowl.
These series can be embellished with the manufacturer's Christmas glass accessories.